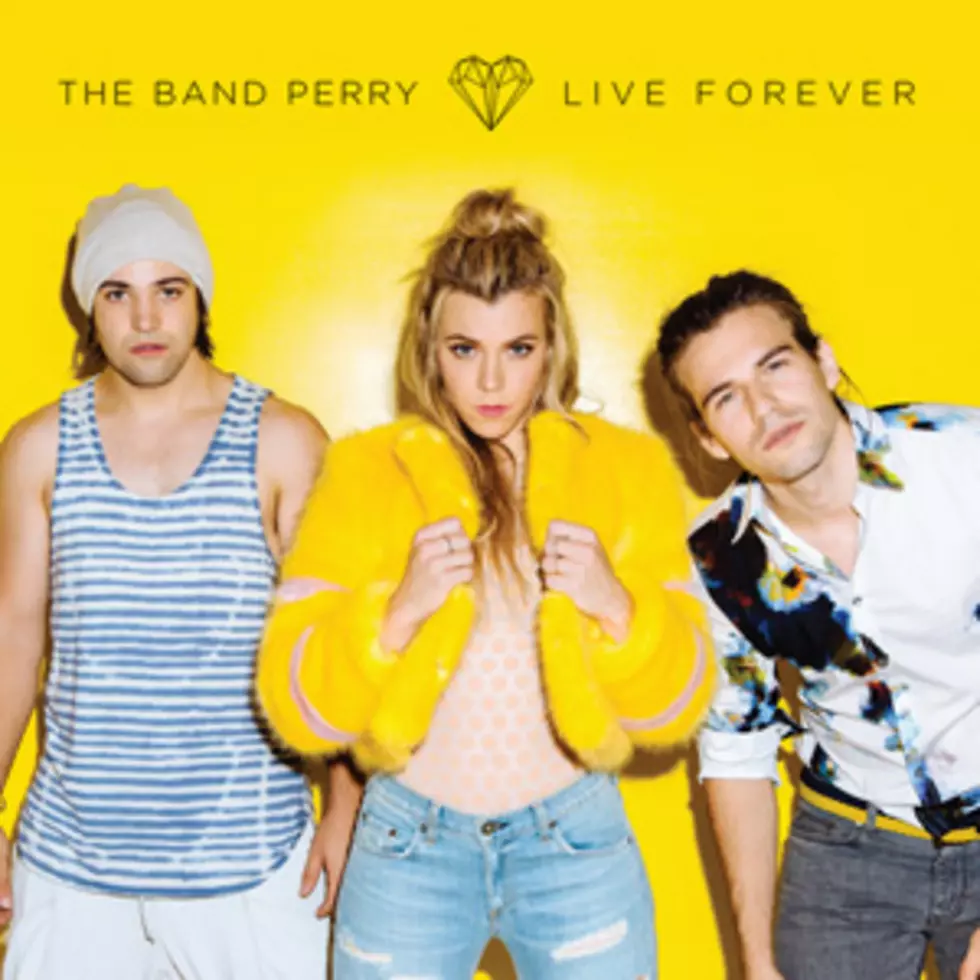 The Band Perry, 'Live Forever' [Listen]
Republic Nashville
The Band Perry's "Live Forever" is an absolute anthem. It's easy to see 10,000 fans shouting the chorus back to the trio this fall. The group put their sound on steroids for this big, forceful, pop-country song.
Credit producer RedOne for the extra juice. Gone (at least for now) is the delicate melody that Kimberly Perry brought to "If I Die Young," their most successful love song to date. Gone also is that sharp edge she and the brothers Perry took to hits like "Chainsaw" and "Done." This song finds Perry in love, although one doesn't immediately feel it comes from her own personal experience.
"I was dreaming of war / Saw that I wouldn't die / Was dreaming of shores / That my ship would find / I was dreaming because / You make me feel so alive / Was dreaming it all from my bed last night," she sings to open the song. Lyrically, "Live Forever" is very abstract, until that chorus:
"This time, I want it all / I want it right now, wanna feel the fall / Go, go crazy, go, go, go crazy / We're gonna live, we're gonna live forever," the Band Perry sing. These are the lines and this is the sound that will make or break one's opinion on this first cut from a new album. It leans further into pop-rock than anything they've cut yet.
The dreamy nature of Perry's story will be missed by some, but the same could be said of "If I Die Young," and that worked out alright for them.
"I was feeling a storm / But it wasn't outside / Was feeling a force / I'm electrified / I was feeling my heart / There was thunder inside / Was feeling it all, from my bed last night," she sings in verse two, the more accessible of the verses.
This is a big song. RedOne's influence creates an imposing four minutes of radio that one can't dismiss as the soundtrack to an ongoing conversation. The Band Perry say for their new album they're "dreaming in color," and they were not exaggerating. "Live Forever" is vivid.
Listen to the Band Perry, "Live Forever"
Why Fans Will Love It: It's an anthem that will play well at TBP live shows.
Key Lyrics: "You will be my only one / Hold my hand so we can run / You and I we're staying young / We're gonna live, we're gonna live forever."
Did You Know?: The trio wrote "Live Forever" with RedOne, who also co-produced their album. He brings a long pop and international resume to the record.
The Band Perry Dish on New Album
More From Taste of Country