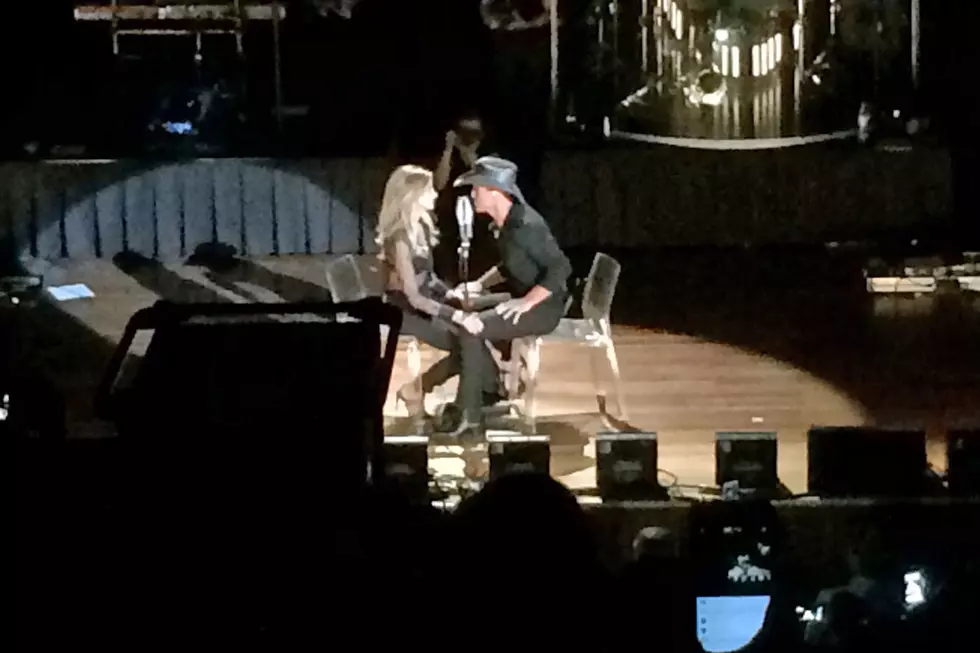 Tim McGraw, Faith Hill Turn Back Time During Ryman Auditorium Show
Billy Dukes for Taste of Country
Fans worldwide will be talking about the tour announcement, but Tim McGraw and Faith Hill's 70-minute-long set at Nashville's Ryman Auditorium should not be overshadowed.
They weren't perfect — vocally, they'll need a few shows to regain the magic found on previous Soul2Soul tours — but it was great to see them sharing a stage once again. McGraw brought new energy to this live show after a summer spent on the road. An entire new generation of country fans is about to introduced to Hill, one of the best female vocalists of the last 30 years.
Hill was the star of this 'secret' small show, almost by design. After both artists entered from opposite ends of the Ryman stage, they came together like they've done many times before during the climatic moment of "It's Your Love." The 2017 Soul2Soul World Tour announcement came next, followed by seven or eight solo Faith Hill songs. "Mississippi Girl" was among them. The song was her last major hit from her last studio album, released in 2005.
The 49-year-old sounded as good as ever, but she seemed more comfortable on this stage than you might expect for someone who has toured sparsely. As she worked through "This Kiss" and "Cry," she reintroduced her more soulful, blues-influenced side. Her girlish stage moves were captivating — Hill is much more comfortable mixing her early career sex appeal and current beauty and grace than her contemporaries. She summoned Janis Joplin to sing "Piece of My Heart," leaning back and thrashing in a way that surely made many men in the audience blush or recall a few moments from her late '90s, or early '00s career.
Hill and McGraw are downright sexy together, and they're hotter on stage alone when the other is within shouting distance. It's as if they're not just performing for fans, but each other. McGraw's solo set included old hits like "Something Like That," an inspired version of "Real Good Man" and modern hits like "Humble and Kind." Writer Lori McKenna watched from the Ryman balcony, sharing a section with Little Big Town and Steve Moakler. Chris and Morgane Stapleton were also rumored to be in the audience. It was a show the stars rushed out to see and the worst kept secret in Music City.
"Like We Never Loved at All" and Bob Seger's "We've Got Tonight" closed the show before fans brought the iconic couple back out to sing "I Need You," seated face to face, knee to knee. Hill kept time on McGraw's right leg. He never looked away from her gaze. Were the 2,500 in attendance even there at this point? That passion recalled the spark fans saw 20 years ago, when the Spontaneous Combustion Tour solidified their love and life together. Their anniversary is this week (Oct. 4). How coy of the "How I'll Always Be" singer to simply tell Taste of Country he had "plans" when pressed about his plans two months ago.
The 2017 Soul2Soul World Tour will begin on April 7 in New Orleans and last through October. It's not clear if there will be any opening acts.
Tim and Faith Make Their Tour Announcement
See Tim and Faith's Best Photos Through the Years
More From Taste of Country