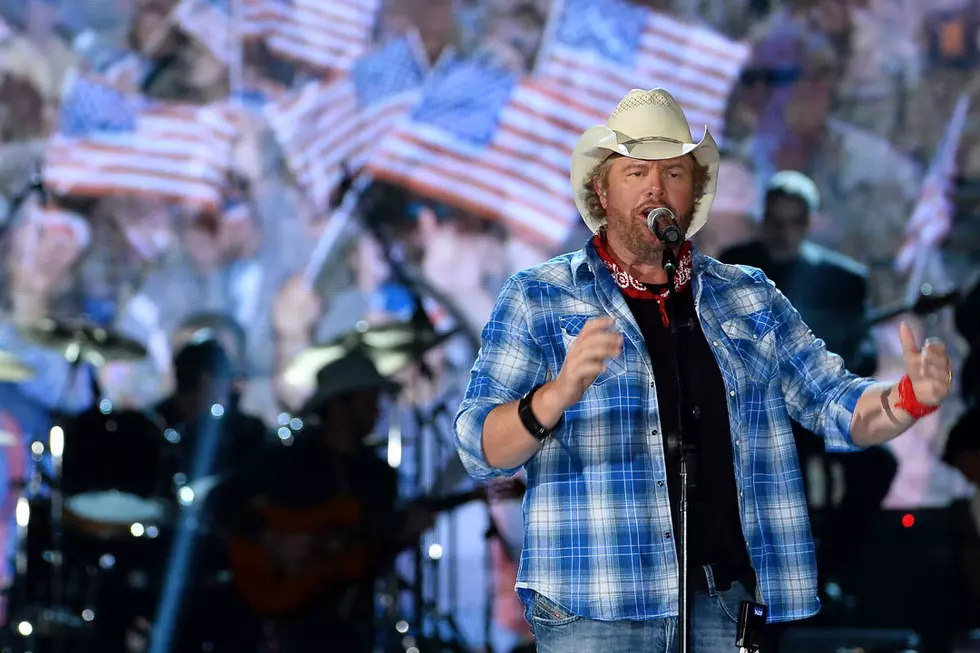 Fox News Uses Toby Keith Anthem to Accompany Afghanistan Bombing Footage
Ethan Miller, Getty Images
Toby Keith's post-9/11 anthem was resurrected as a call to arms on Friday (April 14), when Fox & Friends used his song "Courtesy of the Red, White and Blue" as the backdrop to their coverage of the U.S. bombing in Afghanistan on Thursday (April 13).
U.S. military forces in Afghanistan dropped a 21,600-pound missile over a series of tunnels where militant ISIS members were reportedly gathered, according to CNN. Deemed the Mother of all Bombs, the missile is the largest non-nuclear bomb in the U.S. arsenal. Afghan officials reported that 36 militants were killed in the strike Thursday.
The following morning on Fox & Friends, Keith's flag-waving anthem served as the soundtrack to their coverage of the attack, playing in the background as they aired the black and white footage.
"That video is black and white, but that is what freedom looks like," Ainsley Earhardt observed. "That's the red, white and blue."
"One of my favorite things, in my 16 years I've been here at Fox News, is watching bombs drop on bad guys," Geraldo Rivera replied.
The network's coverage touched off partisan debate online, with Spin weighing in by calling the Fox hosts "chuckling idiots" and "faux populist."
Keith has said that he wrote the song partly to honor his father, a veteran who was killed in a car accident in 2001, and partly in response to the terrorist attacks on 9/11. The song has inadvertently caused controversy before, touching off a very public feud between Keith and Dixie Chicks singer Natalie Maines after she called it "ignorant."
The country superstar has not commented publicly on Fox & Friends' use of his song. He has been all over the map politically over the course of his career, going from a registered Democrat to an Independent, and most recently drawing criticism when he performed at the inauguration ceremony for President Donald Trump.
True to his songs, Keith has always been unrepentant in the face of criticism he feels is slated or unfair. "In the end, it just makes you stronger," he said of the criticism he received after the inauguration gig. "If you don't succumb to that kind of pressure, you'll always come out stronger: Your fans will love you more, your friends will love you more, and at the end of the day, you just get another notch on your gun belt."
Most Political Singers in Country Music
More From Taste of Country