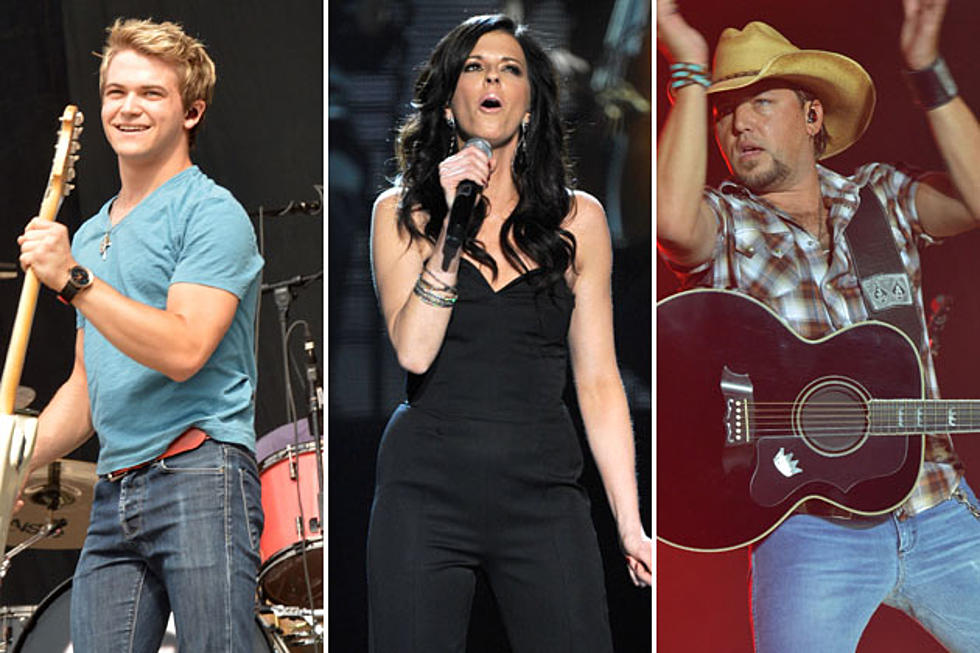 Top 40 Country Songs – September 2012
The No. 1 song on the Taste of County Top 40 for September 2012 is one that was recently named the song of the summer by readers. It's been one of the top sellers in the genre since it was released as a single last spring, and it finally topped out at No. 1 on the Billboard charts. There was no question which song was worthy this month. The rest of the group were fighting for No. 2. 
Artists like Carrie Underwood, Josh Turner, Taylor Swift and Tim McGraw gave a good effort for the penultimate spot on the Top 40 Country Songs of September 2012 list, but it was a young country newcomer who earned the position in the end. With the majority of big name artists waiting for the Christmas shopping season to release new albums, hot new singles are being unleashed almost daily. Look for singles from Darius Rucker, Jason Aldean and Big and Rich on this list. All three are the first listens of music from their upcoming projects.
The list of the Top 40 Country Songs is compiled from Billboard chart data and sales figures, in addition to staff opinion and reader feedback. If there is a song you feel should have made the Top 40, tell us why in the comments section below.
Top 40 Country Songs - September 2012:
40. Darius Rucker, 'True Believers'
39. Colt Ford, 'Back' (With Jake Owen)
38. Kristen Kelly, 'Ex-Old Man'
37. Chris Cagle, 'Let There Be Cowgirls'
36. Maggie Rose, 'I Ain't Your Mama'
35. Eli Young Band, 'Say Goodnight'
34. Greg Bates, 'Did It for the Girl'
33. Randy Houser, 'How Country Feels'
32. Dierks Bentley, 'Tip It on Back'
31. Edens Edge, 'Too Good to Be True'
30. Casey James, 'Crying on a Suitcase'
29. Lady Antebellum, 'Wanted You More'
28. Kenny Chesney, 'Come Over'
27. Toby Keith, 'I Like Girls That Drink Beer'
26. Justin Moore, ''Til My Last Day'
25. Kip Moore, 'Beer Money'
24. Big and Rich, 'That's Why I Pray'
23. Jerrod Niemann, 'Shinin' on Me'
22. Easton Corbin, 'Lovin' You Is Fun'
21. Luke Bryan, 'Kiss Tomorrow Goodbye'
20. Eric Church, 'Creepin''
19. Brantley Gilbert, 'Kick It in the Sticks'
18. Rascal Flatts, 'Come Wake Me Up'
17. Jake Owen, 'The One That Got Away'
16. Florida Georgia Line, 'Cruise'
15. Zac Brown Band, 'The Wind'
14. Miranda Lambert, 'Fastest Girl in Town'
13. Keith Urban, 'For You'
12. Love and Theft, 'Angel Eyes'
11. Blake Shelton, 'Over'
10. Lee Brice, 'Hard to Love'
9. Tim McGraw, 'Truck Yeah'
8. Josh Turner, 'Time Is Love'
7. Jana Kramer, 'Why Ya Wanna'
6. Dustin Lynch, 'Cowboys and Angels'
5. Carrie Underwood, 'Blown Away'
4. Taylor Swift, 'We Are Never Ever Getting Back Together'
3. Jason Aldean, 'Take a Little Ride'
2. Hunter Hayes, 'Wanted'
1. LIttle Big Town, 'Pontoon'
Did Your Favorite Song Make Our September 2012 Top 40 Country Songs List?

What would you add to our list of the Top 40 Country Songs for September 2012? Share your opinions on the list, and the songs that deserve to be included, in the comments section below.
More From Taste of Country