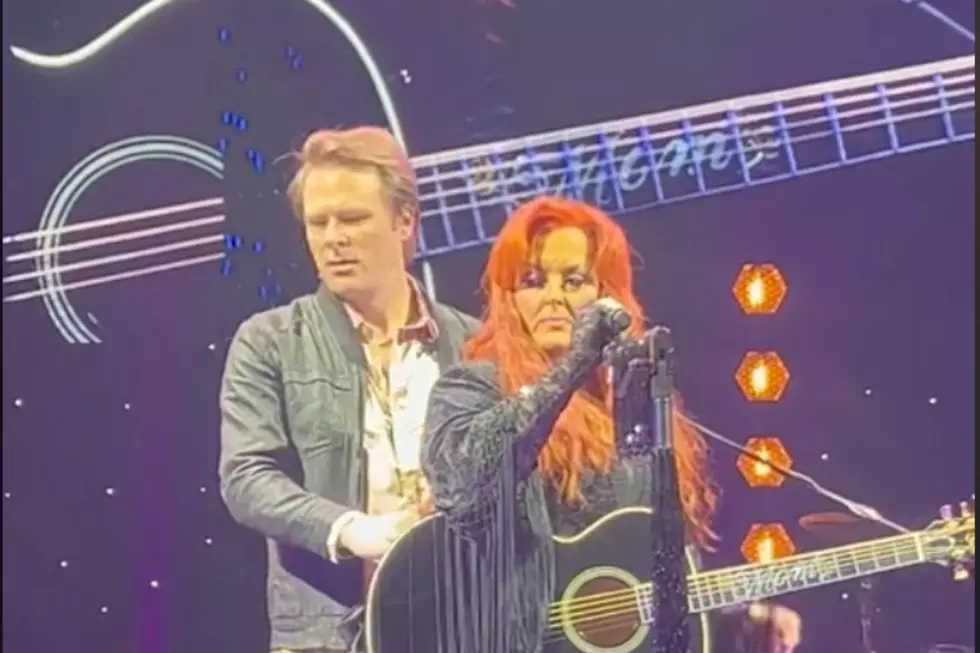 Wynonna Judd Pauses Ohio Show, Nearly Faints Onstage: 'I'm Really Dizzy' [Watch]
TikTok
Wynonna Judd's Dayton, Ohio, show on Saturday night (Feb. 11) hit a road bump when the singer experienced a bout of lightheadedness onstage.
In the middle of the concert, which was a stop on the Judds Final Tour, Judd suddenly paused the show and asked the audience for a breather.
"Hang on a second. Hang on a second. I am really dizzy. Could somebody come up here please?" she said from the stage. Immediately, a crew member rushed to her side to steady her.
"Yeah. I'm really dehydrated. I'm having a hard time, so hang on a second," the star continued. "... I'm just really dizzy. This has never happened before, so of course it would happen in Ohio."
As she collected herself, fans roared their support and encouragement. Although Judd wasn't feeling her best, she never stopped making jokes throughout the scary moment, and she seemed determined to shake off the dizziness. After first suggesting to her band that they perform the classic ballad "Grandpa (Tell Me 'Bout the Good Old Days)" next, she immediately revised that idea in favor of a slightly more uptempo and physically demanding song choice.
"No, no no. You know what? If I faint, just take a lot of pictures, okay?" Judd joked to the crowd, then launched into a performance of "Mama He's Crazy."
Meanwhile, her crew members were scrambling to bring a stool out on stage so that she could perform seated — but Judd didn't like that idea, either.
"Screw the stool," she quipped, in between lyrics.
According to fan-captured video of the night, Judd soon rallied, and she went on to deliver the full set of her show. The Judds Final Tour is scheduled to run through the end of February, after launching in October 2022. She's already extended the tour once past its originally planned run of dates, but Judd has said there are no plans in the works to further expand the trek.
Back in late December, she missed a scheduled performance due to an "extreme bout of vertigo." The singer canceled her gig at Nashville's New Year's Eve live concert special, where she'd been booked to perform with Kelsea Ballerini.
After the fact, some fans voiced concern that Judd's current tour was pushing her too hard, particularly as she continues to grieve the loss of her mom and bandmate Naomi, who died by suicide in April 2022. The singer hopped on social media to address those comments, reassuring fans that she was "working really hard at self-care" and stressing that she is balancing the pressures of tour life with downtime and time spent with family.
See 50 Essential '90s Country Songs
If you call yourself a real fan of '90s country music, you probably need to know the words to all of these hit songs.
More From Taste of Country