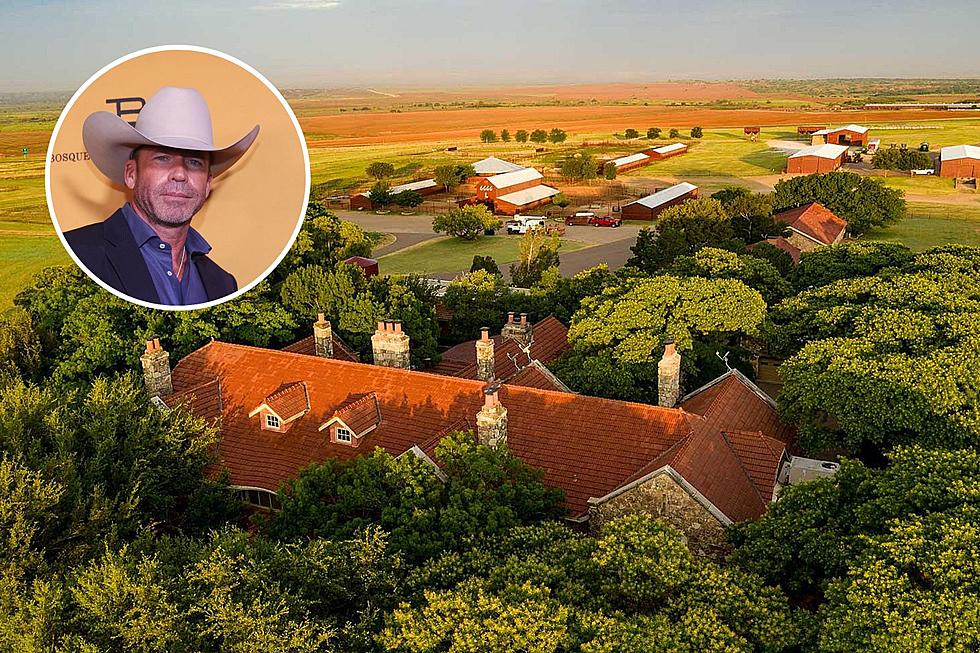 See Inside 'Yellowstone' Creator Taylor Sheridan's Staggering $192 Million Texas Ranch [Pictures]
Chas S. Middleton and Son LLC/Omar Vega, Getty Images
Yellowstone co-creator and writer Taylor Sheridan doesn't just write about life on the ranch; he lives it in real life, too. The television mogul is part of a group of investors who bought the famed 6666 Ranch in Texas for a reported figure that was just under $200 million.
The 6666 Ranch — better-known as the Four Sixes Ranch — in Guthrie, Texas, dates back to 1870, according to a property listing. Samuel Burk Burnett was one of the most influential and wealthiest cattlemen in Texas history, and he put the 6666 Ranch together by purchasing several smaller ranches and joining them together, topped off by building what was, at the time, termed "the finest ranch house in Texas" in Guthrie in 1917.
Sheridan grew up in Texas "in the shadow of the Four Sixes," he tells the Hollywood Reporter.
"To just get one of their horses was a status symbol, because they're so well trained. This was the ranch I based [Yellowstone's] scope and operation on, because it didn't exist in Montana. Most ranches there had already been carved up. They'd already lost it."
Sheridan convinced the ranch's former owner, 81-year-old Anne Marion, to let him use the ranch on Yellowstone in 2019, but he was caught unaware when he received a call from the estate after she subsequently died, asking if he wanted to purchase the property.
"I said, 'How much?' They said, 'It's $350 million.' And I'm like, 'I'm about 330 short. But please, you thought enough to call me, will you give me two weeks?'" he recalls.
Sheridan ended up heading up a team of investors who paid a reported $192 million for the property in 2022. He'd had a plan in mind to retire after the success of Yellowstone, but in order to preserve the Four Sixes, he turned around to Paramount Network and signed a massive new deal, reportedly worth $200 million, that entailed him creating what various entertainment publications have dubbed the "Taylor Sheridan Universe."
That includes Yellowstone prequels 1883 and 1923, as well as 1944, Lawmen: Bass Reeves and another Yellowstone show set at the Four Sixes. Matthew McConaughey is also reportedly in talks to star in a Yellowstone sequel that will premiere after Yellowstone wraps at the end of Season 5.
Sheridan is also overseeing the upcoming Nicole Kidman-Morgan Freeman spy thriller Special Ops: Lioness, the prison drama Mayor of Kingstown, the Sylvester Stallone mob comedy-drama Tulsa King, the upcoming Billy Bob Thornton drama Land Man and more for Paramount Network. Sheridan estimates that he is responsible for producing a billion dollars' worth of television per year under the terms of that deal.
"I do the shows for the ranch," Sheridan tells the Hollywood Reporter.
Scroll through the photos below to see inside Taylor Sheridan's stunning Texas ranch, and keep scrolling to pictures of ranches belonging to Yellowstone's Kevin Costner, Cole Hauser and more.
PICS: See Inside Taylor Sheridan's Historic 6666 Ranch in Texas
The massive, historic Texas ranch where the upcoming Yellowstone spinoff Yellowstone: 6666 will shoot has sold for just under $200 million, and pictures show a property that is truly part of Texas history.
The 6666 Ranch — better-known as the Four Sixes Ranch — in Guthrie, Texas, dates back to 1870. The ranch centers around a 13-bedroom, 13-bathroom, 13,280-square-foot main residence, which is constructed of quarry rock that was hauled to Guthrie by wagon. The ranch also includes vast, sweeping fenced pastures, farmland, fenced-in pens for cattle, a more recent addition for horses, a water filtration plant that serves the ranch's water needs and more.
There are separate camp manager's homes in both the North Camp and the South Camp of the ranch, which encompasses nearly 225 square miles of land. Yellowstone creator Taylor Sheridan is part of a group of investors who recently acquired the property for $192 million, and he has been shooting his new show out there in recent months.
PICTURES: See Inside Kevin Costner's Spectacular Colorado Ranch
Yellowstone star Kevin Costner lives the ranch life when he's off the set of the hit show, too. The Oscar-winning actor owns a 160-acre ranch in Aspen, Colo., that's a spectacular getaway, complete with a main residence, a lake house and a river house.
The luxury retreat also features a baseball field, a sledding hill, an ice rink, multiple hot tubs and views of the Continental Divide. The ranch property comfortably sleeps 27 people, and it's currently available to rent for 36,000 a night.
PICTURES: See Inside 'Yellowstone' Star Cole Hauser's Spectacular California Ranch
Cole Hauser doesn't just play a rancher on Yellowstone, he's lived that life off-screen, too. The actor's 5-bedroom-6-bathroom, 5,402-square-foot rural home on a very private, double-gated three-acre parcel of land includes the lavish 4-bedroom, 4-bathroom main residence, as well as a guest house and a separate studio apartment. The main house runs completely on solar power and comes with a 3-car garage, with easy transitions between indoor and outdoor living spaces, and the exterior of the property includes a pool area and a hot tub, as well as fenced-in horse corrals.
See Forrie J. Smith's Stunning Ranch:
You Can Rent a Cabin on the Ranch From 'Yellowstone' - See Pictures
The stunning Montana ranch that serves as the setting for the hit TV show Yellowstone offers cabins for rent, and the price includes tours of the set and ranch. Scroll below to see photos of the extraordinary property.
More From Taste of Country