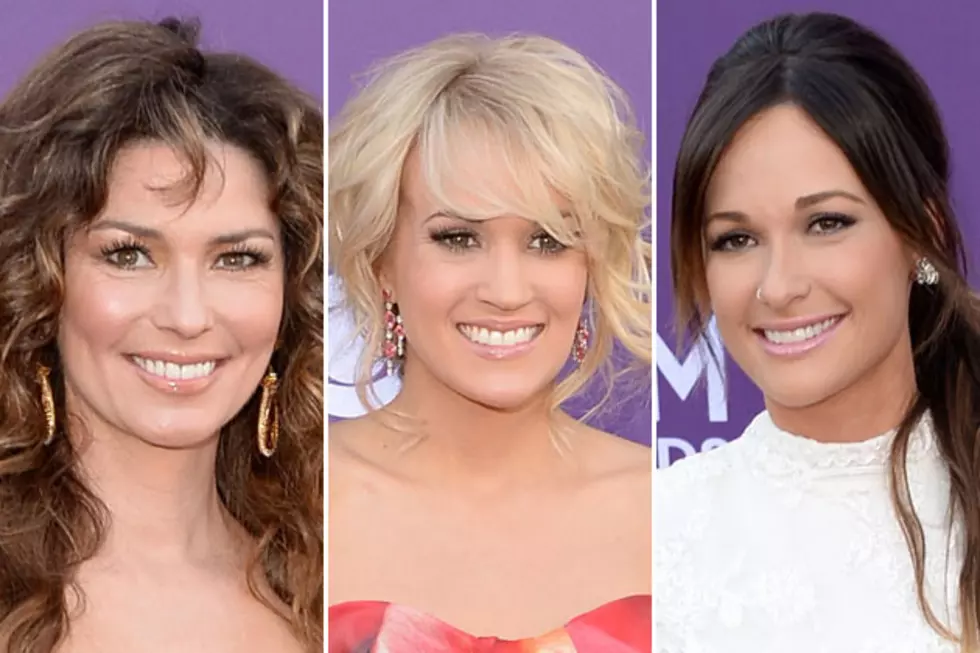 2013 ACM Awards Worst Dressed Pictures
Jason Merritt, Getty Images
Fashion no-nos at the 2013 ACM Awards included one artist who went back in time for her dress and another who was apparently inspired by Dracula. The Worst Dressed at the ACMs list features at least one superstar who is more regularly found on Best Dressed collections, proving that everyone is vulnerable to an oopsie. From one plain Jane to one hot mess, these folks who were worst dressed at country's biggest party will want to rethink their approach for next year. 
Carrie Underwood left injured hockey player hubby Mike Fisher at home and brought her mom to the 2013 ACM Awards. Apparently, she brought her mother's curtains as well. This dress would be great for a spring banquet on the 18th green at Augusta, but for the ACM Awards, it camouflaged the typically well-dressed singer.
Shania Twain must've walked right out of Jason Aldean's '1994' video in this outfit. OK, perhaps that's an exaggeration. Her hair does look great, and it was fun to see her at the ACM Awards again. It had been 10 years, but unfortunately she hasn't seemed to update her wardrobe in even longer. It's too easy to imagine this outfit as a wardrobe change on her Up! Tour in 2002.
Is that a velvet vest on Randy Houser? The 'Running Outta Moonlight' singer looked svelte in the chest accessory, but paired with a noisy aqua dress shirt and dark jeans, he seemed more uncomfortable than cowboy. Houser has never been a "hat act," but this fashion bomb proves he's still searching for a red carpet look to match his music.
Kacey Musgraves was ready for a wedding -- apparently her wedding -- at the 2013 ACM Awards. The 'Merry Go 'Round singer was somewhat frumpy in this barely off-white skirt that did little for her figure. There's an opportunity to add a splash of color with her shoes, but all we got was ... beige.
Thompson Square singer Shawna Thompson's dress actually worked mid-show when she and husband Keifer Thompson went to accept their Vocal Duo of the Year award. The problem with the gown in this red carpet photo is the sheer cape hanging from her shoulders. Honestly, she looks like a bat.
More From Taste of Country