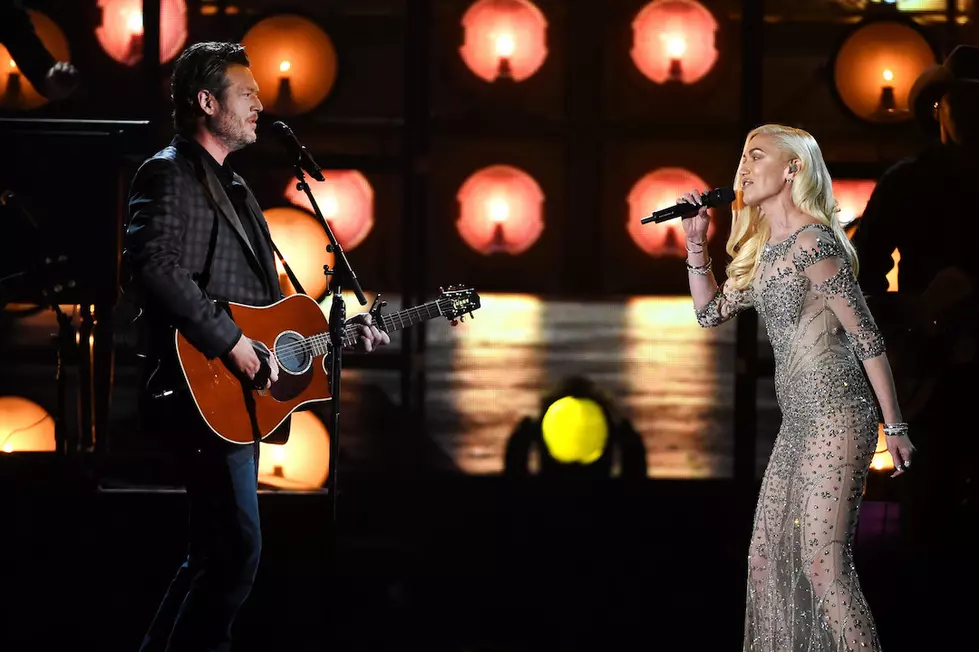 Blake Shelton Makes Surprise Cameo at Two Gwen Stefani Concerts
Kevin Winter, Getty Images
Blake Shelton surprised Gwen Stefani fans twice this weekend during his girlfriend's concerts in Virginia, although the country star's Twitter followers may have had a hint that he would be in attendance after he tweeted, "Hello Virginia Beach!!!"
On Saturday night (July 16), Shelton walked out on stage with guitar in hand to deafening screams to perform the couple's duet "Go Ahead and Break My Heart" off his latest album If I'm Honest. One fan captured the moment on YouTube, and Shelton can be seen all smiles and singing along with Stefani during her verse on the song.
The following evening (July 17), Shelton also appeared at Jiffy Lube Live in Bristow, Va., to duet with Stefani.
Shelton's surprise comes a month after his pop-rock lady joined him onstage during his set at Country Jam 2016, which also happened to be his 40th birthday. In an interview on Chelsea Handler's Netflix series Chelsea, Shelton admits that inviting Stefani to the stage during his set was the worst thing he could have possibly done.
"I'm doing my normal, you know, what I think is rockin'. Standing up there with my acoustic guitar in front of my stand and singing my songs," he tells Handler. "I had my band work up one of her songs, 'Hella Good.' And I thought 'Man, that'd be so cool to have her come out and surprise.' It's the worst thing I could have done because all it did was make me look terrible."
"Literally 40,000 were jumping up and down," he continues. "I mean, that's probably what it's like at real concerts, but I was like 'Whoa. What's going on?' People were so excited to see her."
Watch Blake Shelton and Gwen Stefani Sing at Country Jam
See More From Blake Shelton's Set at Country Jam
More From Taste of Country