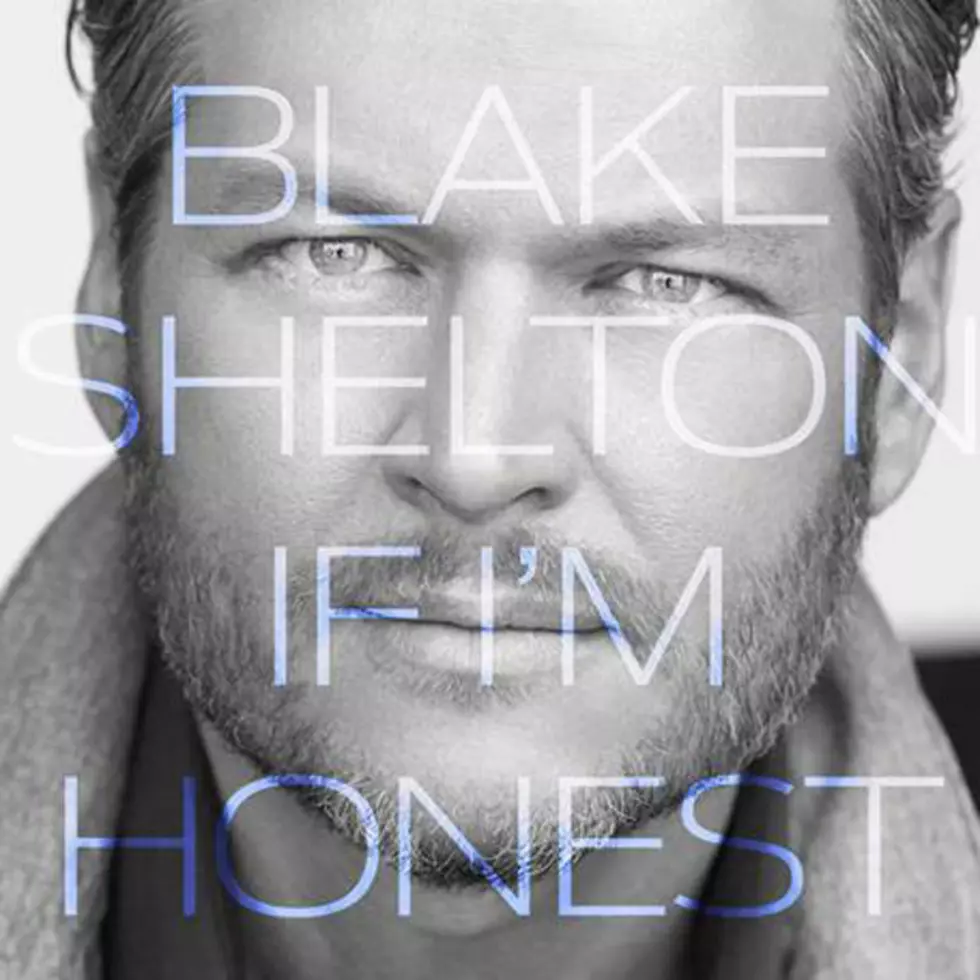 Album Spotlight: Blake Shelton, 'If I'm Honest'
Warner Music Nashville
Blake Shelton is a gifted storyteller, but the best songs on If I'm Honest reveal his own scars. The singer's new studio album isn't quite the autobiography some were hoping for. Many of the more dangerous songs are performed from a safe distance.
Despite the lyrics, it's difficult to believe "She's Got a Way With Words" is aimed at anyone Shelton previously shared a bed with. It's more "Some Beach" than "God Gave Me You" in terms of first-person pathos, and frankly, the song is better for it. Lyrically Wyatt Earp, Andy Albert and Marc Beeson have crafted a gem, and it'd be a shame if others couldn't access it.
That's not to say Shelton didn't have recent heartache in mind while recording If I'm Honest. "Bet You Still Think of Me" stings. "Every Time I Hear That Song" also approaches the depths of emotion he plunged into with previous hits like "Mine Would Be You" and "She Wouldn't Be Gone." Then about one-third of the way through the project, he lets up.
"Every Goodbye" is a second straight story of two lovers finding comfort in each others arms after a previous relationship dissolved. "It Ain't Easy" finds Shelton head over heels in love again. "Doing It to Country Songs" and "Green" are classic Blake Shelton, served with his wry smile and signature sarcasm.
If I'm Honest plays out like theater, with buoyant love replacing early headache by intermission. The second act is straight-up plucky — until he gets to the suddenly introspective "Savior's Shadow," a gospel song that closes the album. The result of this arc is a project that plays better as an album than any song does individually. Shelton hasn't always focused on crafting cohesive albums as much as he's delivered collections of radio hits. This isn't that. It's best effort since Red River Blue.
The Single:
Craig Wiseman and Deric Ruttan wrote "Came Here to Forget, the first single on If I'm Honest. Shelton said it'd be a revealing look at his life, and he wasn't exaggerating. Depending on how much one chooses to believe the lyrics reflect his personal story, he and Stefani found comfort in each other's arms after painful ends to their respective marriages, and he still holds some level of resentment towards ex-wife Miranda Lambert.
The song doesn't stretch him vocally like some others, but the production is a little edgier than almost everything he's recorded in the past. It's a good mix of California and Nashville that plays well on country radio 2016.
The Producer:
Scott Hendricks returns to produce If I'm Honest. He's produced or co-produced the last six of Shelton's projects.
The Songs:
Shelton says he wrote more for this album than any album in his career, adding that music has been a great channel for him to vent and celebrate his tumultuous year. Only three of his co-writes made the album, however, and one is the movie-ready "Friends."
In August he tweeted that he'd just written a very important song with Jessi Alexander and Jon Randall, songwriters known for handling sensitive topics gracefully. That was a gospel song close to his heart.
Blake Shelton's If I'm Honest Track Listing:
1. "Straight Outta Cold Beer" (Marv Green, Ben Hayslip, Justin Wilson)
2. "She's Got a Way With Words" (Wyatt Earp, Andy Albert, Marc Beeson)
3. "Bet You Still Think of Me" (Park Chisolm, Mark Irwin)
4. "Every Time I Hear That Song" (Aimee Mayo, Chris Lindsey, Brad Warren, Brett Warren)
5. "Came Here To Forget" (Daric Ruttan, Craig Wiseman)
6. "Every Goodbye" (Ryan Hurd, busbee, Liz Rose)
7. "It Ain't Easy" (Matt Dragstrem, Hayslip, Rhett Akins)
8. "A Guy With a Girl" (Ashley Gorley, Bryan Simpson)
9. "Go Ahead and Break My Heart" (Feat. Gwen Stefani) (Shelton, Gwen Stefani)
10. "Friends" (Shelton, Jessi Alexander)
11. "One Night Girl" (Gorley, Dallas Davidson)
12. "Doing It to Country" (Feat. The Oak Ridge Boys) (Jacob Lyda, Paul Overstreet, Marty Dodson)
13. "Green" (George Teren, Wiseman)
14. "You Can't Make This Up" (Gorley, Zach Crowell, Rodney Clawson)
15. "Savior's Shadow" (Shelton, Alexander, Jon Randall)
Blake Grabs Gwen for "Go Ahead and Break My Heart"
See Pics of Blake Shelton and Gwen Stefani at the Oscars
More From Taste of Country