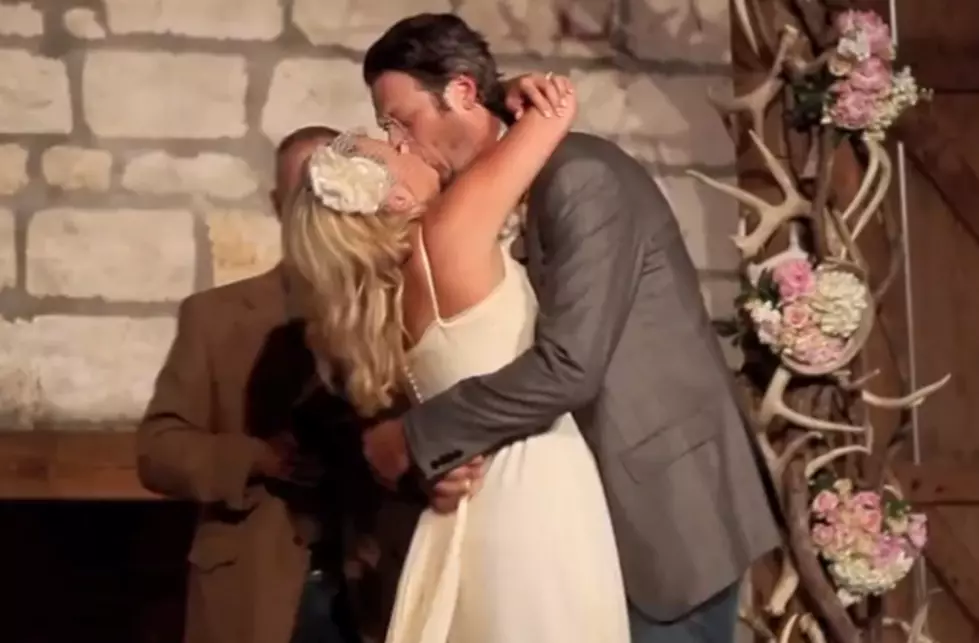 Blake Shelton and Miranda Lambert's Wedding Video Leaks
The professional wedding video from Blake Shelton's and Miranda Lambert's May 14 nuptials has leaked. It's an intimate, private look at the couple's beautiful day. The eight-minute clip is a rare, bird's eye look inside the big day of one of country music's most beloved and attractive couples as they share their happiness with their family and friends.
The video takes you from the rehearsal and rehearsal dinner party through the actual ceremony and reception. It starts with the wedding rehearsal, and you get plenty of footage of the couple's dogs, who were a part of the ceremony. The rehearsal dinner is full of dancing, drinking and fun; it'll make you wish you had received an invite to that this country hoedown.
Watching Shelton cut a rug at around the 1:53 minute mark in the video was probably the funniest moment of the footage. He can sing and dance. There's plenty of merriment.
For the ladies, there are clips of the wedding attire -- like the cowboy boots, the bejeweled bouquet (complete with puppy charms) and the rings -- and the actual ceremony. We see the duo exchanging their vows, and of course, the big first kiss as man and wife, with the flowered threshold behind them. Neither Shelton nor Lambert can stifle their ear-to-ear grins once they are pronounced man and wife.
There is plenty of socializing at the reception, including a shot of the multi-tiered, purple and pink wedding cake, and shots of some musical guests: We spotted Neal McCoy, Reba McEntire, Martina McBride and Brandi Carlile.
Update: This video is no longer available at this time. We apologize for any inconvenience!