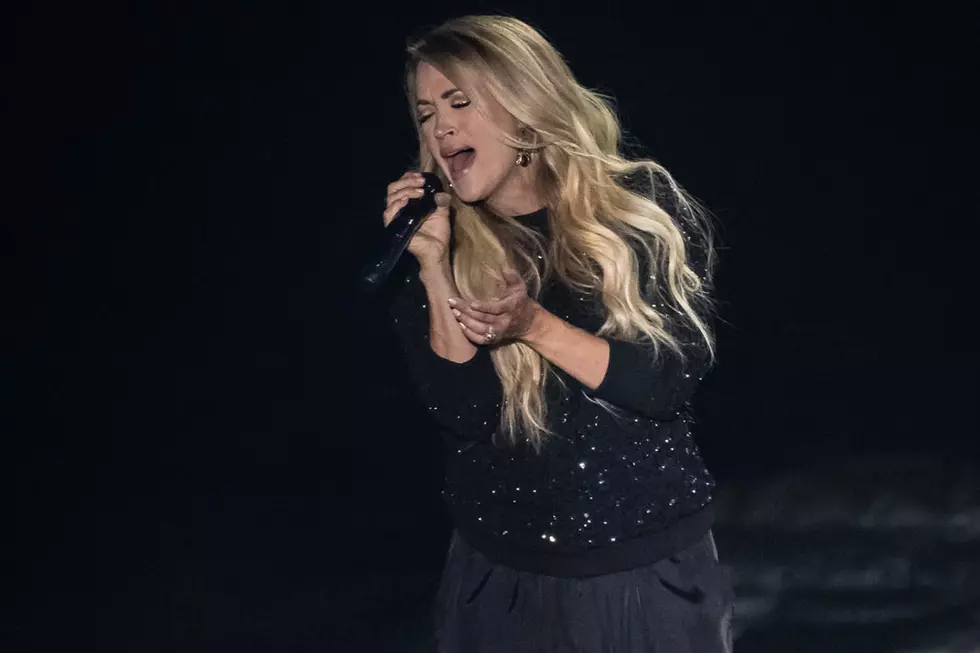 Was Carrie Underwood's Headlining WE Fest Set a Warmup for What's Next? [Pictures]
Keith Griner for WE Fest
If Carrie Underwood isn't longing to return to the stage for a full tour, she's certainly playing the part. The "Cry Pretty" singer went for every note during a 90-minute set at WE Fest on Thursday night, energizing the crowd at the expense of her own breath.
Underwood, playing her first WE Fest in five years, was four songs in before pausing for a break. Sounding as if she'd just sprinted a mile (she may have!) the singer talked about how much she appreciated the day's opening acts and then slowed down for "Heartbeat." Two soaring ballads — "Jesus Take the Wheel" and "Wasted" — followed, offering a short dip in energy before the dramatic portion of her 21-song set. "Blown Away," "Dirty Laundry" and "Choctaw County Affair" represented the revenge portion of the show, and she sang each one with frightening enthusiasm. By this point she was having fun, vigorously embracing every emotion in front of a crowd who'd waited so long to do the same.
The 35-year-old started with "Church Bells" before proving she could command an audience like a queen during "Undo It." At her best, she worked both sides of the stage and engaged with her band as they soloed. At times her banter felt unrehearsed, but musically the ensemble (eight musicians, plus Underwood) was tight. Underwood is most comfortable in song, although a few spontaneous remarks ("Dang! That's all I got," she said after "Flat on the Floor") came with satisfying sincerity.
Prior to the show Underwood told Taste of Country that there would be less drama on her upcoming album, and on this night one might have guessed it's because she's not the same person who would add to her body count tally on each record. Inspiring songs like "See You Again," the show-closer "Something in the Water" and "The Champion" were her best moments. Ludacris handled the rap break previously, and while his face appeared on the large screens flanking the stage, Underwood's self-assured vocals dominated a challenging bridge. She sang with conviction that bordered on anger, and it was wonderful.
Tour news is coming, soon she says. Even if a multi-city run is still months in her future, Underwood will surely be bringing her band along for promotion of the upcoming Cry Pretty album. The set list was a significantly adjusted version of what she brought to her 2015-16 Storyteller Tour, leading one to wonder if she just made a few tweaks or is shedding old skin as she once again emerges from a cocoon to become country's top female live performer.
Day 1 of WE Fest 2018 also featured performances from Vince Gill, Dan + Shay, Carly Pearce and Devin Dawson. Florida Georgia Line and Jason Aldean are set to headline on Friday and Saturday.
Watch: Carrie Underwood Talked About Her New Album Before WE Fest
See More Photos from WE Fest 2018!
More From Taste of Country