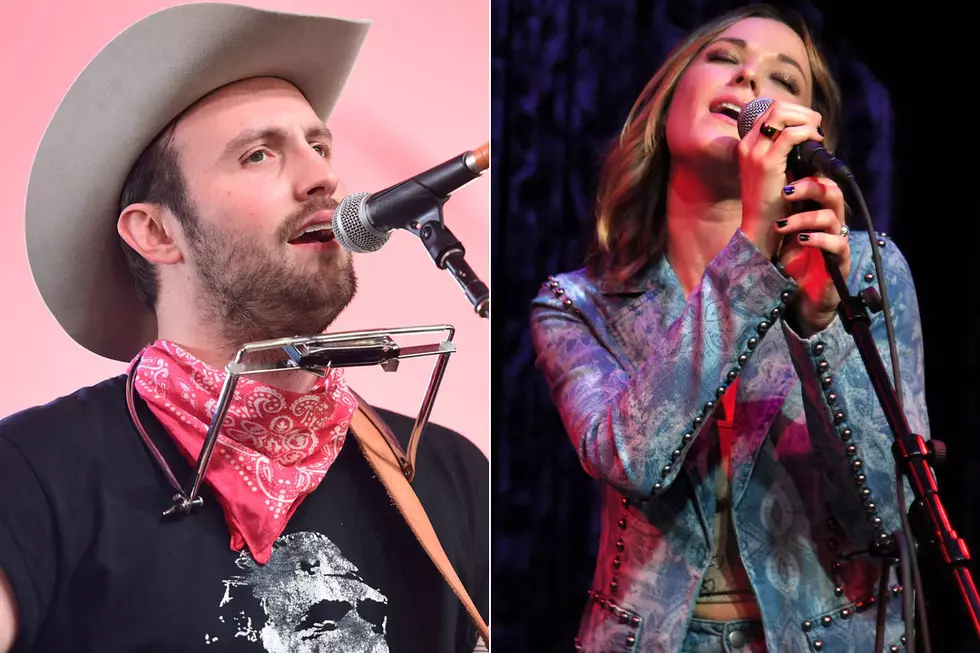 Who's RISING Now? 5 Artists to Watch in September 2018
Matt Winkelmeyer / Michael Loccisano, Getty Images
Country music welcomes a variety of artists and the individualistic sounds they create, and these up-and-coming artists are eager to walk through the door. From the rock and Americana-leaning Sisterhood Band to a more traditional Riley Green, this batch of new country acts know how to produce something unique and deliver it with confidence.
You hear this bravado loud and clear from Jillian Jacqueline — a budding female artist who has already the garnered the attention of superstar Keith Urban, who jumped at the chance to be a part of her latest song. Then there's Kacey Musgraves' husband Ruston Kelly, who drives his country mobile in a lane all his own, one defined by fearlessness and insightful truth. Welcome Heather Morgan to the mainstream, too — she's an acclaimed songwriter (understatement) behind some of the genre's most prominent songs who's now stepping out to bring her own sound.
Here are five country acts to watch in September of 2018.
1

Ruston Kelly is married to one of country music's treasured acts in Kacey Musgraves, but his talent stands on its own. Kelly has a gift for being bold with his words — he's fiercely unfiltered on "Asshole" (which he wrote after spending a night in jail), yet incredibly introspective on the haunting "1,000 Graves" and new single "Mockingbird." He creates the type of music that welcomes you to get lost in thought and has the power to open the mind with each listen. Kelly will continue to share the depth of his artistry when his debut album Drying Star drops on Sept. 7.

2

Jillian Jacqueline is intriguing. Her signature numbers "Reasons" and "Bleachers" garnered impressive debut numbers on Spotify, with the former earning more than 30 million streams. The striking "God Bless This Mess" draws you in with a vulnerable message that gently reaches out to the bruised souls of the world. Jacqueline's talent is so undeniable that even Keith Urban embraced the opportunity to sing with her on the raw "If I Were You." With her follow-up EP Side B expected for release in 2018, Jacqueline's honest lyrics and authentic voice have positioned her as a bold presence ready to make a breakthrough.

3

Riley Green is an artist traditional country enthusiasts will embrace. His authentic Southern twang and lyrics that show his appreciation for his Alabama roots are determined to make him a favorite of those who still long for the country sound of yesterday. He's a sentimental songwriter on the reflective "In a Truck Right Now," the title track of his 2018 EP which has him reminiscing about learning to drive his father's truck as a child and chronicles how the vehicle followed him through the important moments of his life. Though still new to the scene, Green built a grassroots fanbase that's currently supporting him on his headlining 2018 Outlaws Like Us Tour through December.

4

Meet the Sisterhood Band — a duo of Ruby Stewart (daughter of the legendary Rod Stewart) and Alyssa Bonagura, who are bringing a blend of rock and soul to country music. You won't believe the talent these two artists deliver on tracks like "Walk Away" and "Half Way," and they can just as masterfully deliver a whimsical cover of Fleetwood Mac's "Landslide." After spending summer of 2018 opening for Steven Tyler and releasing their debut EP Summer Setlist, the Sisterhood Band have set a stage and demanded our attention.

5

You may not be familiar with Heather Morgan's voice yet, but you know her thoughtful lyrics. The accomplished songwriter is behind several notable tracks — have you heard Brett Elredge's "Lose my Mind" and "Beat of the Music," as well as any number of cuts by Keith Urban, Dierks Bentley and Cole Swindell? Yes. Scotty McCreery was so taken by Morgan's stage talent (yep, she has that too!) that he invited her to be an opening act on his 2018 Seasons Change Tour alongside newcomer Jimmie Allen. Morgan's debut single "Your Hurricane" sets a cinematic tone as the backdrop of an honest letter about not being able to let a lover go. Equipped with a persuading voice, expect to get to know Morgan through her powerful numbers when her debut album Borrowed Heart drops on Oct. 5.

BONUS

RISER Lindsay Ell Can Seriously Jam
More From Taste of Country