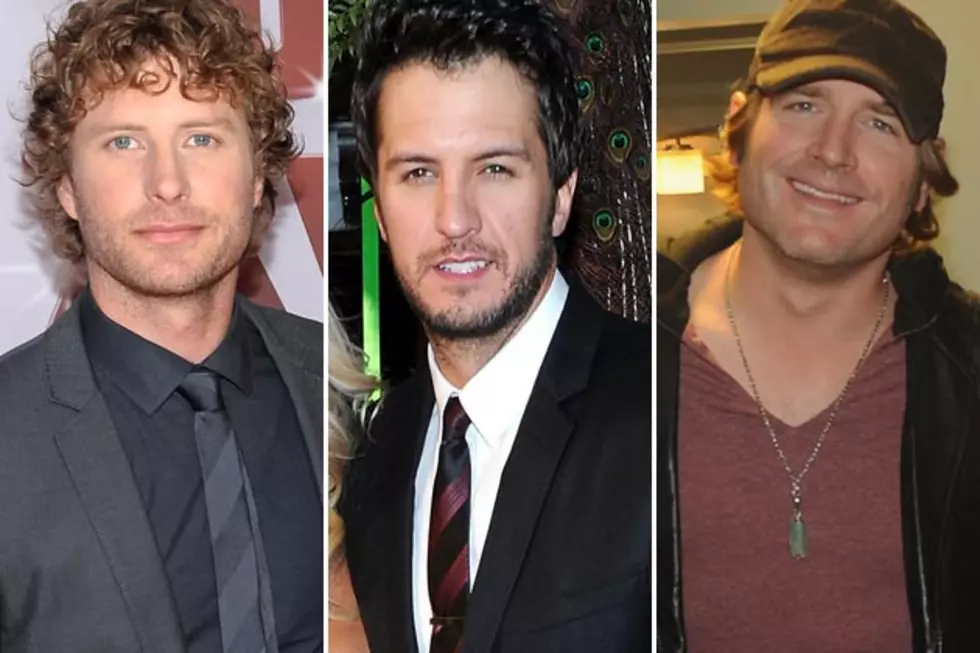 Dierks Bentley, Luke Bryan + Jerrod Niemann Celebrate Successful Singles
Congratulations are in order this week for Dierks Bentley, Luke Bryan and Jerrod Niemann, who are all celebrating their hit singles being top sellers in the digital download world this week.
Bentley's party anthem hit, 'Am I the Only One' -- which became his eight No. 1 last fall -- has been certified gold by the RIAA for digital sales exceeding 500,000 song downloads.The tune is the first single from Bentley's next studio album, 'Home,' in stores next month.
"'Am I The Only One' seems to really have resonated with country fans looking to get out, drink some cold beer on the weekends and have a good time," says Bentley in a release about the news. "It's become one of the rowdiest songs in our set. It's now the moment in the show when girls go up on shoulders and beer cans go up in the air."
Bryan's current single, 'I Don't Want This Night to End' -- which the singer co-wrote with Nashville writing trio and BMI's/ASCAP's 2011 Songwriters of the Year the Peach Pickers (Rhett Akins, Dallas Davidson and Ben Hayslip) -- is still working its way up the country singles chart, where it currently is holding down the No. 4 position. The song has become one of Bryan's fastest-rising hits, as well as his highest selling digital track, and is certified gold. Just in the past week, 'I Don't Want This Night to End' has sold 128,000 additional downloads.
And lastly, Niemann's very first chart-topping hit, 'Lover, Lover,' has been certified platinum for impressive sales of over one million digital downloads. The single was the first release from the singer's No. 1 album, 'Judge Jerrod and the Hung Jury,' which also features the Top 5 hit and gold-selling single 'What Do You Want.'
"To have a platinum single is mind-blowing," says Niemann, according to a press release. "It's just truly a dream come true for me. To know that people have thought, 'Man, I care about this enough to own it,' whether it's to get over somebody or just to ignore the words and kick your shoes off in the sun ... it doesn't matter. It's just amazing to me."
More From Taste of Country