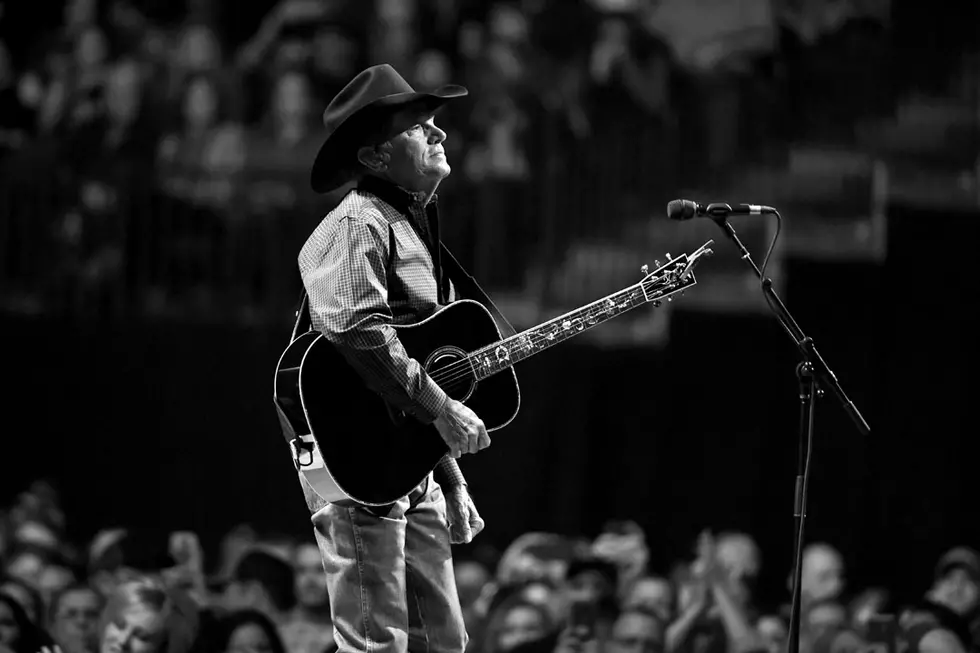 George Strait's 'Honky Tonk Time Machine' Signals New Vulnerabilities
Ethan Miller, Getty Images
George Strait is steady like a river, and his new album Honky Tonk Time Machine shows just how true that platitude is.
If you look back at nearly 40 years of Strait albums, you find a batch of 4-star reviews peppered with words like "reliable" and "consistent." At some point, the degree to which this is satisfying is mentioned — never unsatisfying, but rarely, if ever gratuitously satisfying. The King does slow burn better than anyone before him, and as our culture moves toward one of instant gratification, it's fair to assume he'll hold that distinction.
Some years he ebbs, some years he flows, but Strait is forever present.
But rivers change. You don't notice because they carve out new banks over decades, not hours. Once in a generation there's a historical event — as happened in 2014 when Strait called it quits — that leaves a scar. In 2015 he dropped Cold Beer Conversation, an album that signaled a shift, with Chuck Ainlay taking production control from Nashville institution Tony Brown after 20 successful years. Ainlay returns alongside Strait for Honky Tonk Time Machine, and with help from Bubba Strait the pair make sure the now-65-year-old legend stays atop the crests of contemporary country without sacrificing identity. The sound is contemporary-traditional, as it has always been.
This is all a way of saying that Honky Tonk Time Machine is just another George Strait album, but that summative statement is an undersell. The title track, a late-career Johnny Paycheck cover, Strait's current radio single and a police officer tribute are the signature songs on this tight western and country music mix. Each deviates from a base of easily consumable, PG-rated heart-hurt ballads pulled straight from the Strait style guide. "Two More Wishes" is beachy with a hint of Mexican surf in the distance. "Blue Waters" could be found on any of his first 29 albums. "Sometimes Love" — the best of this category — is an acoustic ballad that spans years.
"She was a sometimes love / But sometimes love hangs around a little too long," he sings — and you believe him.
Here, and on Paycheck's "Old Violin," Strait faces time's slow, but firm squeeze. This is where he's at his most interesting. The cover song could very well be his ninth co-write on Honky Tonk Time Machine. There's a few minor lyrical tweaks, but much like he did with "Troubadour" and with aggression on "Kicked Outta Country" (2016), Strait owns his late-in-the-game vulnerability and swagger. Watching a legend deal with aging is must-see TV, so to speak. Strait's reluctant willingness to open up is compelling and beautiful. That he's writing more than he has in decades indicates this is where he's headed.
"Tonight I feel like an old violin / Soon to be put away and never played again / Don't ask me why I feel like this, hell, I can't say / I only wish this feelin' would just go away," he sings. "The Weight of the Badge" is another that shows his willingness to explore dark places.
Missteps are hard to come by on this project, although it's difficult to think of "Codigo" as anything but a three-minute-long commercial for a tequila Strait's invested in, and hearing him spend four minutes singing with Willie Nelson about how they've never sung a song together is hardly "Seven Spanish Angels." "Sing One With Willie" is a pleasant coda to a project that gets a little rowdy with the title track and "Every Little Honky Tonk Bar" — two Texas swingers every bit as believable in 2019 as they would have been when 25-year-old Strait was coming of age. There are still a few more songs in this old violin.
Perspective allows one to truly appreciate what the King is doing right now. Should "Every Little Honky Tonk Bar" hit No. 1, he'd be the oldest artist with a No. 1 country single in 30-plus years, maybe longer (Taste of Country's research only goes back to 1986). Kenny Rogers rang the bell with "Buy Me a Rose" in 2000, the year of his 62nd birthday. After that it's a whole lot of George Strait songs in the veteran category. Country music has been a young man's game for much longer than we want to recognize, but you you'd be foolish to tell a river it's too old.
What's George Strait's Best Album? Here's His First 29, Ranked: 
More From Taste of Country