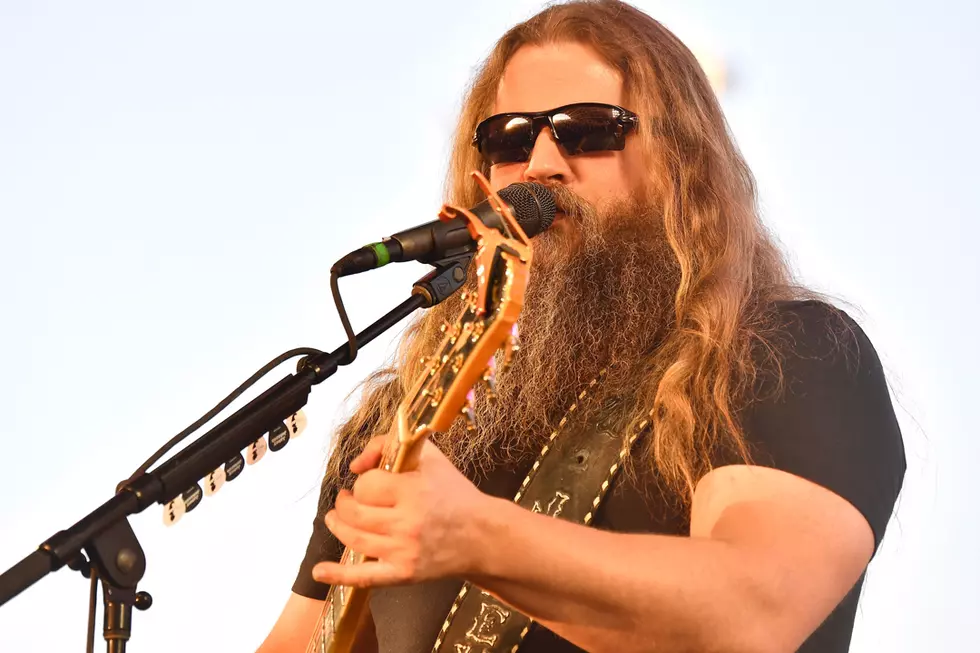 Jamey Johnson Announces 2018 Tour
Frazer Harrison, Getty Images
Jamey Johnson is hitting the road in 2018. The acclaimed singer-songwriter is embarking on a multi-city tour that takes him across the U.S. from February through July, making multiple stops in the South and Midwestern regions. More dates will be added in the coming weeks.
Johnson's live shows are always unique, as he goes into each show without a standard setlist, giving each performance its own distinction. "I don't know what I'm going to do until I am standing there doing it. That is a freedom I have enjoyed ever since I began doing this—the ability to try something new," Johnson says of his concerts in a press release.
The rugged country star has grown into one of the most respected songwriters in Nashville, penning George Strait's "Give it Away," Trace Adkins' rowdy hit "Honky Tonk Badonkadonk" and "It's All Going to Pot," a collaboration between legends Merle Haggard and Willie Nelson.
Johnson has had a taste of success with his own releases as well, scoring a Top 10 hit with "In Color," which won Song of the Year at the 2009 CMA and ACM Awards.
He also penned the title track to Nelson's 2017 album, God's Problem Child. "Jamey's one of the best pickers and singers and writers we've got around today," Nelson says. "When people ask me about some of the new guys coming up, I've always got to throw Jamey's name out there because he's that good."
Johnson's 2018 tour kicks off Feb. 11 in Hollywood, Fla. and continues through July 29 where it concludes in Des Moines, Iowa.
Jamey Johnson 2018 Tour Dates:
Feb. 11 – Hollywood, Fla. @ Seminole Hard Rock Casino
Feb. 22 – Jacksonville, Fla. @ Florida Theatre
Feb. 23 – Fort Myers, Fla. @ The Ranch
Feb. 24 – Jupiter, Fla. @Abacoa Town Center Ampitheatre
Feb. 25 – Cocoa, Fla. @ Cocoa Riverfront Park 
Mar. 10 – Tyler, Texas @ Oil Place
Mar. 22 – Rootstown, Ohio @ Dusty Armadillo 
Mar. 23 – Springfield, Ill. @ Boondocks 
Mar. 24 – Indianapolis, Ill. @ 8 Seconds Saloon 
Apr. 12 – Beaumont, Texas @ Jefferson Theatre 
Apr. 13 – New Braunfels, Texas @ Gruene Hall 
Apr.14 – Hitchcock, Texas @ Galveston Co. Fairgrounds 
Apr. 18 – Macon, Ga. @ Macon City Auditorium 
Apr. 19 – Athens, Ga. @ Georgia Theatre 
Apr. 20 – Athens, Ga. @ Georgia Theatre 
Apr. 21 – Biloxi, Mo. @ Crawfish Music Festival 
Apr. 26 – Jacksonville, N.C. @ The Tarheel 
Apr. 27 – Wilkesboro, N.C. @ MerleFest 
Apr. 28 – Decatur, Ala. @ Fredericks Outdoor 
May 5 – Gaston, S.C. @ Farm Beach 2018 
May 19 – Franklin, Ohio @ JD Legends 
Jun. 23 – Mt. Vernon, Ky. @ Renfro Valley 
Jun. 29 – Maryville, Tenn. @ The Shed 
Jul. 7 – Algona, Iowa @ A.B.A.T.E of IA Freedom Rally 
Jul. 20 – Cedar Rapids, Iowa @ McGrath Ampitheatre 
Jul. 21 – Sauk Rapid, Minn. @ Rollie's 
Jul. 22 – Rochester, Minn. @ Mayo Civic Center 
Jul. 27 – Papillion, Neb. @ Sumtur Ampitheatre 
Jul. 28 – El Dorado, Kansas @ Dam Music Festival
More Country Stars Who've Served
July 29 – Des Moines, Iowa @ Hoyt Herman Place
More From Taste of Country