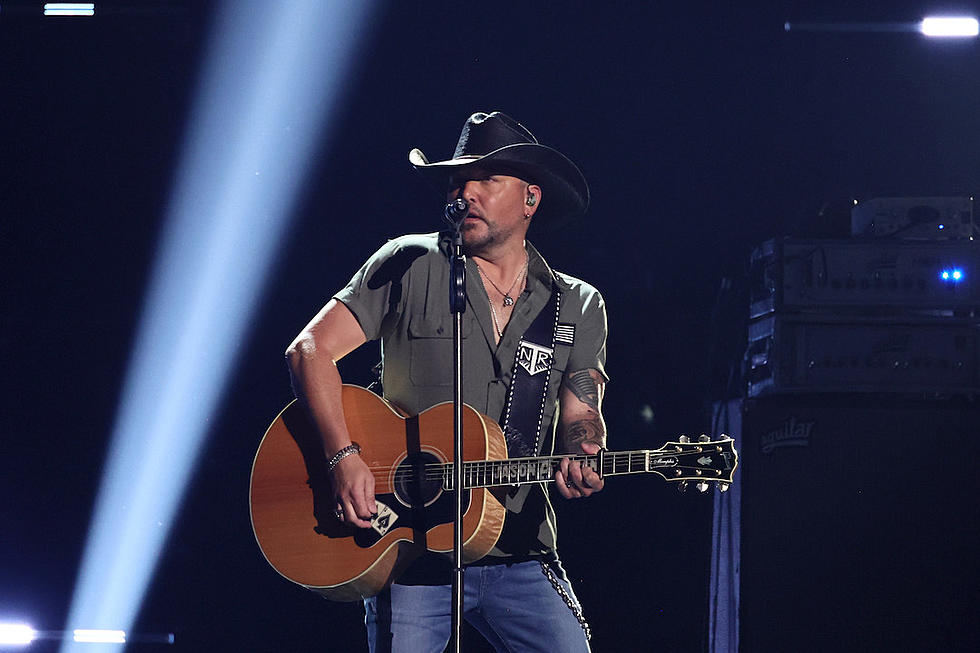 Jason Aldean's 'Try That in a Small Town' Hits No. 1 at Country Radio
Theo Wargo, Getty Images
Jason Aldean's controversial "Try That in a Small Town" is officially a smash hit on country radio. The song topped the Country Aircheck/Mediabase country chart this week.
On Tuesday (Oct. 24), Aldean hopped on social media to share a video message thanking fans for their support of his song.
"I just wanna get on here and say thank you to you guys and everybody at country radio for making 'Try That in a Small Town' the No. 1 song this week," he says in the clip.
"I can't wait for you guys to hear the rest of the album," Aldean adds.
The singer's new Highway Desperado album is due out Nov. 3; the project lends its name to his 2023 tour, which he'll wrap up this week with an Oct. 28 stop in Tampa, Fla.
Aldean released "Try That" this spring, and its current No. 1 status isn't the first time the song has sat at the top of a chart. The song previously topped the all-genre Billboard Hot 100 chart, marking Aldean's first time at the top of that list.
Its success has come in tandem with a fair bit of controversy. After Aldean dropped the music video for the song in July, both the video and single began to recent significant blowback from listeners who criticized its subject matter as racist dog-whistling and a glorification of "sundown towns." Others condemned what they interpreted as Aldean's promotion of gun-based vigilante justice in the lyrics and music video imagery.
CMT pulled the "Try That" music video from circulation, but many fans also rushed to the song's defense, and Aldean issued a statement asserting that the accusations against him were "not only meritless, but dangerous."
The political controversy surrounding the song led to a major sales spike for Aldean, but it also caused a group of protestors to rally against him outside a show in Chicago.
The 30 Most Controversial Songs in Country, Ranked
Country singers have a long history of stirring it up. Here are 30 of the most controversial country songs, ranked from least to most controversial.
Gallery Credit: Billy Dukes
Remember Country Music's Most Well-Known Feuds?
More From Taste of Country