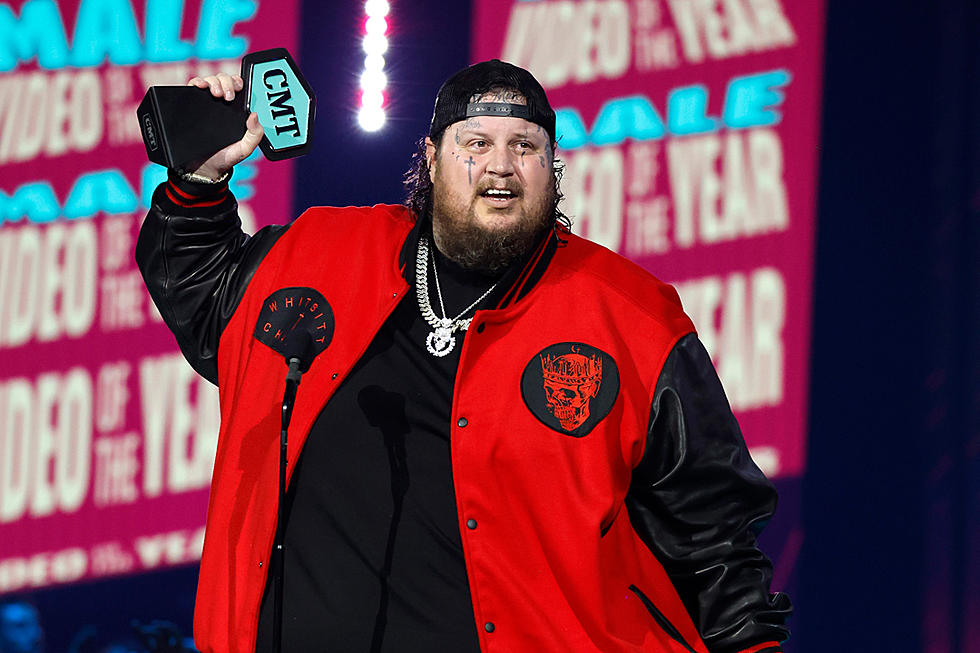 Jelly Roll Thanks Radio, Fans for 'Accepting Me' as He Wins CMT Male Video of the Year
Jason Kempin, Getty Images
Jelly Roll was named the winner in the Male Video of the Year category in one of the most emotional moments of the night at the 2023 CMT Music Awards on Sunday.(April 2). He won for the music video for his song, "Son of a Sinner." He beat out Bailey Zimmerman, Cody Johnson, Cole Swindell, Kane Brown, Luke Combs and Morgan Wallen to win this trophy.
Jelly was teary-eyed as he made his way to the stage, slapping fans' hands to the left and right of him as he walked up the aisle and greeting presenter LeAnn Rimes with a warm hug. The singer appeared speechless as he held up his trophy, then pulled his ball cap down over his face as he broke down in happy tears.
"I love y'all so much. Thank you CMT, baby, look at that. Three awards in one night!" the singer said. He previously won trophies in the Breakthrough Male Video of the Year and CMT Digital-First Performance of the Year on Sunday night.
"I hope y'all give me a second here. I'm a little emotional. I started drinking. I didn't think I was gonna win again," Jelly continued. "It may have looked like it was only 30 yards, but it took me 39 years to walk from there to here."
He then turned his focus to those watching who might be in the throes of their own struggles or fights to pursue their dreams.
"I don't know where you've been and I don't know what you're going through, but you can overcome it. I know you can," he said.
The singer also included a touching shout-out to his mother in his acceptance speech.
"Mama, I know you're out there watching. Mama, look at your baby boy," he said, before turning to the radio industry and fans who buoyed his success.
"I wanna thank country radio for accepting me, knowing who I was. I wanna thank the country community for standing behind me..." he said. After his emotional speech, he turned back to humor, saying, "Everybody in the crowd, listen close, this'll be the most important thing I say all night. We're shutting Sixth Street down tonight!" he concluded before leaving the stage.
Few country breakout acts drew more fervent crowds and fan buzz than Jelly Roll in 2022, and "Son of a Sinner" is a big part of the reason why: This existential crisis ballad cruised all the way up to the top spot at country radio, and helped Jelly sell out a hometown show at Nashville's Bridgestone Arena last December. The music video for the song -- informed by the singer's own experience of addiction, incarceration and poverty -- finds Jelly sitting at a barstool in a dive bar heavy with emotional angst. As the video wears on, his image fades away, replaced with a series of other people from various walks of life, all bellying up to the bar as they navigate their own difficult personal crises.
Jelly Roll was among the most nominated artists walking into the 2023 CMT Music Awards on Sunday night. Other top contenders included the singer's fellow Male Video of the Year nominees Cody Johnson and Kane Brown, plus the most-nominated artist at the ceremony this year, Lainey Wilson.
The 2023 CMT Music Awards aired live from Moody Theater in Austin, Texas, on Sunday night (Apr. 2.) The show aired live on CBS and streamed live and on-demand on Paramount+. Kane Brown and Kelsea Ballerini served as co-hosts.
2023 CMT Music Awards Red Carpet
The best dressed at the
2023 CMT Music Awards
took a slight risk on an established personal style. Country singers and their significant others walked the red carpet prior to the Sunday (April 2) show in Austin, Texas. See pictures of the hottest country fashions as worn by the biggest hitmakers, most-talked-about newcomers and more.
Who gets your vote for best and worst dressed at the 2023 CMT Music Awards?
More From Taste of Country