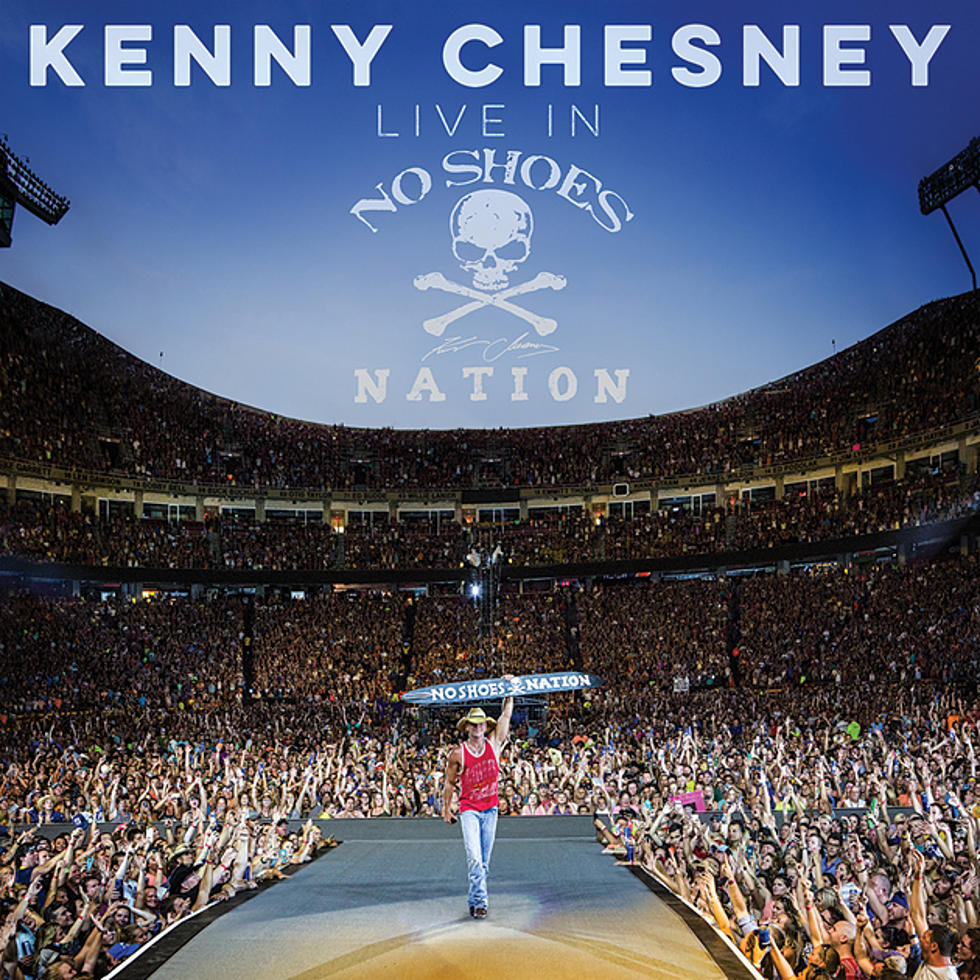 Kenny Chesney's 'Live in No Shoes Nation' Album Features Taylor Swift, Eric Church
Blue Chair Bay / Columbia Nashville
Kenny Chesney has announced the details of a massive 30-track live album titled Live in No Shoes Nation.
The album documents the unique energy between Chesney and his loyal fanbase — collectively known as the No Shoes Nation — at his one-of-a-kind live shows, which place Chesney among the most perennially successful live acts on the road.
The album was inspired by Chesney going back and listening to a decade's worth of live concert tapes. "You record songs, you put'em on a record," Chesney says in a press release. "You know, people think it stops there. Even when it's on the radio, that's really between the listener and their life. But when you have people in your life like No Shoes Nation, I've come to believe, we figure out what these songs really mean when we get out there on the road and sing'em together!"
Highest-Paid Country Singers of the Last Year
"So as I was listening to some of these tapes, I decided: they're as much the people who've been coming out to the shows as anybody's!" he adds. "I shouldn't be the only one listening -- and that sent me down a tube into all these summers out there rocking. When I told the record company how many songs, they thought I'd lost my mind… And that was before we added 'Young,' which really started and defined this chapter, to the list!"
Live in No Shoes Nation features hits including "When I See This Bar," "No Shoes, No Shirt, No Problems," "American Kids" and more, but Chesney also includes some obscure tracks and live favorites that truly make his shows a unique communal experience. Eric Church, Mac McAnally, David Lee Murphy, Old Dominion, Grace Potter, Taylor Swift and the Zac Brown Band also lend their talents in guest appearances.
"No Shoes Nation not only knows no boundaries, we love all kinds of music," Chesney states. "It's why Grace Potter is as loved as Eric Church, why David Lee Murphy gets the same response as Zac Brown and his guys. We love life, we love music and we all really love each other!"
Live in No Shoes Nation is set for release on Oct. 27, 2017. Check out the complete track listing below.
Kenny Chesney's Live in No Shoes Nation Track Listing:
1. "Flora–Bama"
2. "Summertime"
3. "Big Star" (with Taylor Swift)
4. "Boston"
5. "When I See This Bar" (with Eric Church)
6. "No Shoes, No Shirt, No Problems"
7. "Anything But Mine"
8. "Down the Road" (with Mac McAnally)
9. "Guitars and Tiki Bars"
10. "Hemingway's Whiskey"
11. "Everybody Wants to Go to Heaven" (with Zac Brown Band)
12. "I'm Alive"
13. "Save It for a Rainy Day" (with Old Dominion)
14. "Pirate Flag"
15. "Somewhere With You"
16. "I Go Back"
17. "One Step Up"
18. "American Kids"
19. "You And Tequila" (with Grace Potter)
20. "Young"
21. "There Goes My Life"
22. "Out Last Night"
23. "Dust on the Bottle" (with David Lee Murphy)
24. "Coastal"
25. "The Boys of Fall"
26. "Noise"
27. "Old Blue Chair"
29. "The Joker / Three Little Birds (with Dave Matthews)"
30. "Happy on the Hey Now"
Best Country Songs of 2017
More From Taste of Country