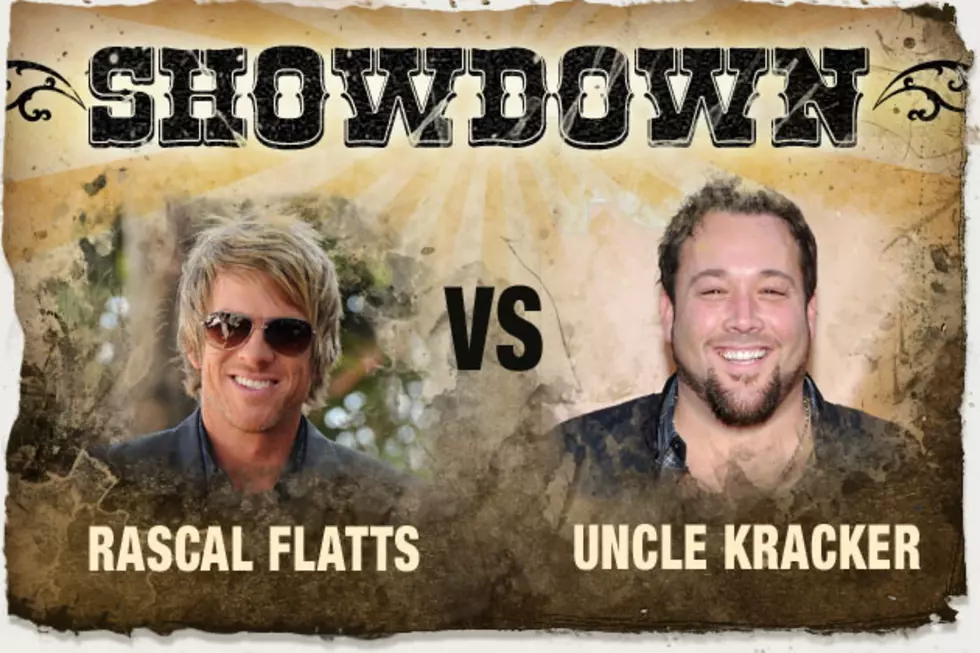 Rascal Flatts vs. Uncle Kracker – The Showdown
Valerie Macon / Ethan Miller, Getty Images
Tuesday's Showdown came down to the final few phone calls on Taste of Country Nights radio, with country superstars Rascal Flatts' new song 'Changed' pulling ahead in the final few minutes to top Chris Janson's 'Better I Don't.' The two-night champion will sit on the sidelines today and watch Gary LeVox and company take on a new challenger today. 
Uncle Kracker could be a formidable opponent if he's able to get his many fans across multiple genres to throw their support behind 'Nobody's Sad on a Saturday Night.' It's difficult to disagree with his logic on this good-time, feel-good country song. Will enough fans embrace his carefree spirit to knock 'Changed' out of the winners circle after just one night?
Listen to clips of both Rascal Flatts' and Uncle Kracker's songs and vote for your favorite here. You can vote once every hour online, so come back and vote often to be sure your artist wins. Hear the full versions of the songs tonight after 10PM on Taste of Country Nights. Help your favorite song win by placing additional votes at (888) 678-9995. You can listen to the show online through any of the 41 radio stations that carry it. Voting will end tonight at 10:40PM CT.
Listen to a Sample of Rascal Flatts, 'Changed'
Listen to a Sample of Uncle Kracker, 'Nobody's Sad on a Saturday Night'
Showdown Rules: The song with the most votes wins, and the winner goes on to face a new challenger in the next Showdown. Vote as much as once per hour online, and again by calling (888) 678-9995. If a song wins five days in a row, it will be retired into the Taste of Country Showdown Hall of Fame to allow for new songs to compete. Some songs will be considered for a second Showdown if voter turnout is healthy in a losing effort.
More From Taste of Country