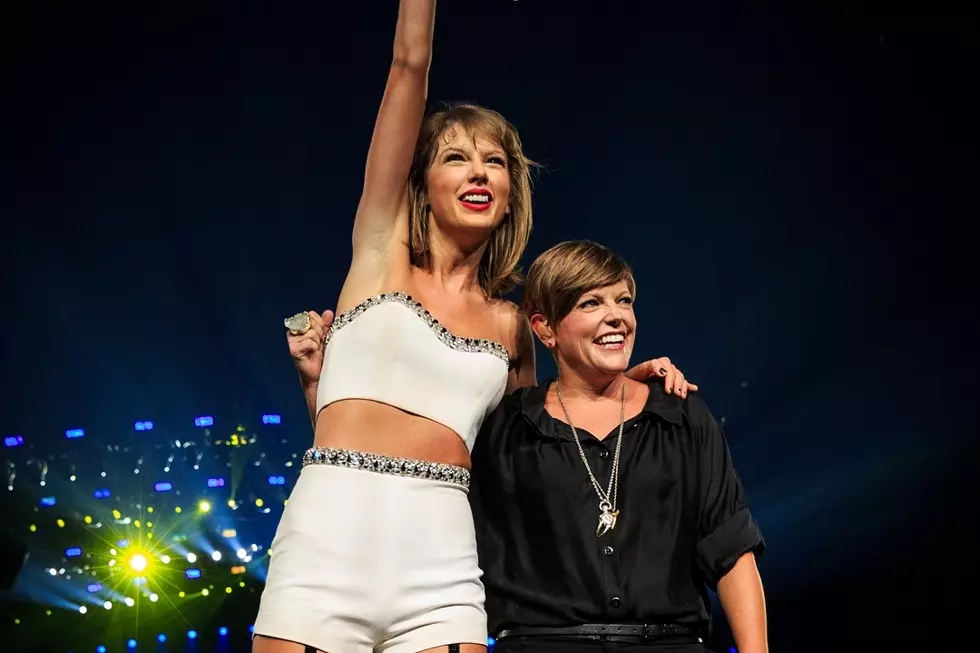 Is a Taylor Swift and Dixie Chicks Collaboration Coming? Here's Why We Think So
Christopher Polk / TAS, Getty Images
In a new interview with Entertainment Weekly, Taylor Swift admits that she's been dropping hints about her next album for months now. In fact, the "Easter eggs" go all the way back to a vertical music video for her Reputation single "Delicate," which features Swift painting her nails in pastel colors — the same colors that are now prevalent on her Instagram page, in the music video for her newest single, "Me!" and in all of the branding for "TS7," as her untitled, not-yet-announced new album is known among fans.
All of these clues, naturally, have left the Swifties — Swift's devoted fandom — playing detective, trying to parse out how each piece of the puzzle fits together to create the new album. But one set of clues, in particular, is of interest to her country-leaning fans: Through a number of hints, the country-turned-pop superstar appears to be teasing a collaboration with the Dixie Chicks.
Swift, of course, is a huge fan of the country trio: In 2015, during her 1989 World Tour, Swift invited the group's Natalie Maines to be her special guest at a show and perform the Chicks' hit "Goodbye Earl" with her. "If not for this woman and her band, I would not have known that you can be quirky, and fun, and yourself, and outspoken, and brave and real," Swift said onstage that night. "When I was 9 years old and got her first CD, I wouldn't have dreamed the things that I dreamed, and I wouldn't be standing on this stage today."
But fandom alone isn't enough to bring about collaboration rumors. Here are three more reasons why we think a Swift / Dixie Chicks collab is imminent:
That "Cool Chicks" Call-Out in the "Me!" Music Video:
On April 26, Swift dropped her new single, "Me!" and its accompanying music video — and eagle-eyed fans quickly noticed her nod to the Dixie Chicks in the clip. In the first verse of the song, Swift sings "There's a lot of cool chicks out there" as the video shows her collaborator, Panic! At the Disco leader Brendon Urie, seated on a sofa in front of a wall covered in paintings. Most of them are baby chickens in sunglasses, but front and center, there's a painted version of this old press shot of the Dixie Chicks. (Get a peek at the 58-second mark, and then again around 1:10.)
That call-out alone is enough to dismiss as nothing more than a famous superfan paying tribute to one of influences. However, Swift's EW interview adds a new layer to the story. The feature includes a video in which Swift discusses her use of "Easter eggs," including in music videos. As she speaks, arrows point to different pieces of her "Me!" video set, seemingly calling them out as foreshadowing — and one of those arrows points directly to the Dixie Chicks painting.
The EW Cover Buttons:
In that same EW video, Swift mentions that she enjoys using her fashion choices as Easter eggs — and that, more than likely, there are some new music hits scattered throughout that very story. In the cover photo for the story, Swift dons a denim jacket adorned with more than a dozen buttons, including a "Dixie Chicks" button.
On Instagram, Swift notes that she "wanted to rep as many things/people I love [as possible] on the jacket," and according to EW, each button represents "a major milestone in her pop culture canon." Per their story, her "official motivation" for including the Dixie Chicks is because she's a fan of how they "make interesting music in an unapologetically feminine way" ...
... Yeah, we're not buying that as the only reason the Chicks are included, either. After all, Swift is a master of the Easter egg, and it would be just like her to try and throw us off her trail.
The Jack Antonoff Factor:
Producer and musician Jack Antonoff first began working with Swift in 2013, and he contributed to both her 1989 and Reputation albums. His involvement in TS7, if anything, isn't clear just yet — but we do know that he was in the studio with the Dixie Chicks last summer and fall. Natalie Maines' Instagram account includes numerous photos and mentions of Antonoff during that timeframe.
Could the Chicks simply be working on a new album with Antonoff? We hope so! But it also seems plausible that their work together also involved something for Swift's next album. Swift says in her EW interview that she began recording her new music after she concluded her Reputation Stadium Tour in late November and finished TS7 on Feb. 24.
Admittedly, this piece of our theory is the most tenuous, but we're still believers.
True Story: Jimmie Allen Once Appeared in a Taylor Swift Commercial!
See Where Taylor Swift Falls in Country Music's 30 Most Powerful Women Ever:
More From Taste of Country