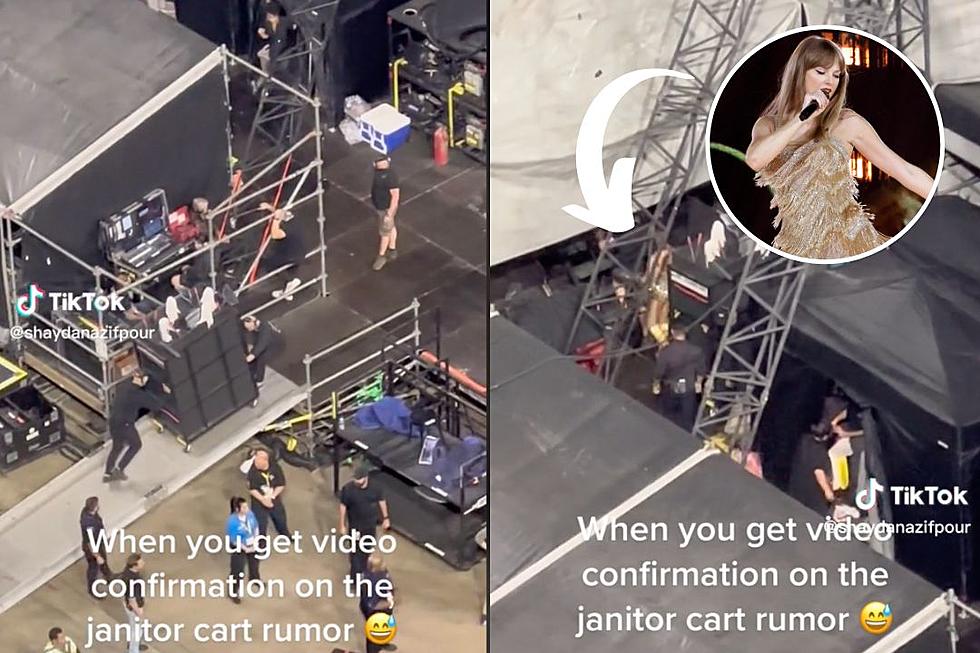 Taylor Swift Hides in Fake Janitor's Cleaning Cart to Get to Stage on Eras Tour [Watch]
@shaydanazifpour on TikTok / Kevin Winter, Getty Images
Taylor Swift fans are experts at cracking her codes, so it seems only natural that it was only a matter of time before they discovered her undercover way of sneaking on stage!
In a viral TikTok video, Swift is seen stepping out of a fake janitor's cleaning cart in order to make her way to the stage unseen.
The cart was seen being rolled up a ramp by two crew members while Lady Gaga's "Applause" plays before parking behind the stage.
Then, the door opens, and the pop star steps out in a shimmering gold costume to the tune of fans' screams.
"When you get video confirmation on the janitor cart rumor," the video's caption reads.
"YOU FILMED HISTORY," one fan remarks in the comments section.
According to the hashtags, the moment was filmed in Arlington, Texas, at AT&T Stadium.
READ MORE: Taylor Swift Fan's Tickets Allegedly Stolen in Ticketmaster Hack
Watch the video below:
Fans had been speculating about the cleaning cart online, and now their suspicions have officially been confirmed.
"It's so obvious," one suspicious Swiftie tweeted.
"WE KNOW FOR SURE NOW," someone else tweeted, citing "really good proof."
Another fan said on Twitter, "Imagine your job at the era's tour having to be pushing THE Taylor Swift around in a cleaning cart???"
The cleaning cart theory being confirmed is reminiscent of the Taylor Swift Suitcase urban legend, in which fans theorized that a giant black suitcase being carried around by several men actually contained Swift herself in an effort to avoid paparazzi.
The rumor was never confirmed, but the legend lives on.
Swift's Eras Tour is currently on a small break after hitting Glendale, Ariz., Paradise, Nev., and three nights in Arlington.
So far, Swifties have been wowed by the career-spanning setlist and show-stopping set design. Plus, Swift's bestie Selena Gomez attended the Saturday (April 1) show in Texas with her little sister Gracie, which led to an adorable moment when Swift gave Gracie her hat and received a friendship bracelet from her in return.
PICTURES: See Opening Night of Taylor Swift's Eras Tour
Taylor Swift
kicked off her much-anticipated
Eras Tour
on Friday night (March 17) with a performance in Glendale, Ariz., celebrating her first return to the stage in five years with a three-hour-plus, 44-song set that spanned her entire career.
More From Taste of Country