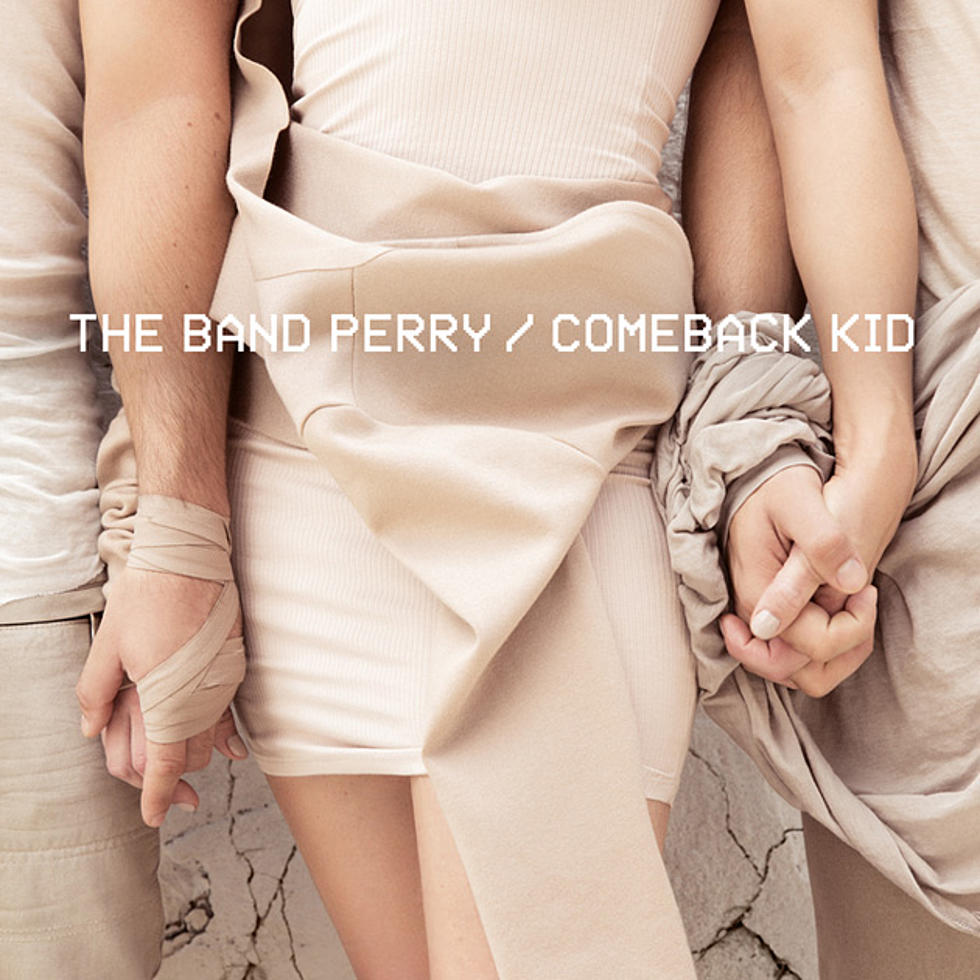 The Band Perry, 'Comeback Kid' [Listen]
Mercury Nashville
A two-word review for the Band Perry's "Comeback Kid" could be "shots fired." The sibling trio's first single on UMG Nashville will become four minutes of empowerment for anyone held under a tyrant's thumb, and it's clear that's what it is for Kimberly, Reid and Neil, as well.
Don't just fast-forward to the second verse and bridge to hear the sexy details, however. The Band Perry wrote "Comeback Kid" together and they crafted a powerful first verse and chorus that bleeds. The song refers to their previous style, but doesn't duplicate something they've already said.
The second verse refers to their catalog — literally. "Comeback Kid" cleverly samples "If I Die Young" as a way to let you know the song is more than just a message for bullied fans to consider. It's personal — a shot at doubters in the media, at radio or at their previous record label home. At the bridge, Perry refers to the last 12 months as the worst she's ever lived. Perhaps she and her brothers will spill some detail, or perhaps not. For some these two portions of "Comeback Kid" will overshadow their intent, but those in need of a personal anthem will find it on the Band Perry's "Comeback Kid."
Did You Know?: Pop, rock and hip-hop producer Benny Cassette (Benedetto Rotondi) produced the Band Perry's "Comeback Kid." This is his first foray into country music.
Listen to the Band Perry, "Comeback Kid"
The Band Perry Discuss the Inspiration Behind "Comeback Kid"
The Band Perry's "Comeback Kid" Lyrics:
"They like to kick you when you're down / They like you better when you're there on the ground / And up till now I've never made a sound / Hey hey / I bet they never had a broken heart / But they sure know how to beat the hell out of one / Sometimes I think they do it just for the fun / Hey hey."
"But no I'm not leaving / Even though I'm bleeding / Even though this nightmare makes me wish I was dreaming / Even though I hate it / I'm gonna take it Until I win."
Chorus:
"'Cause I'm a comeback, I'm a comeback kid / Don't know why bad things happened but they did /I don't think I deserve the hurt I get / But I'm made for it / It's not the end / No, it's not the end / I'm a comeback kid / Down for a minute I'll get up again / Looks like I'm breaking but it's just a bend / It's not over yet / 'Cause in the end / I'm a comeback I'm a comeback kid."
"I'm gonna finish what I started now / You interrupted me with all your doubts / How dare you forget where I started out / Uh oh / Uh oh."
"I believe in what I am / I believe in what I was / I believe in losing you I've never been given so much / I believe it's been a year / The worst one I've ever lived / I believe I'm better now than I have ever been / I believe that ever since everything went south / I believe in every word that ever came out of my mouth / I believe you missed me but / You don't have to miss me 'cause / I'm not leaving again."
"I'm not leaving, I'm not leaving again / I'm not leaving, I'm not leaving again."
"I'll save you a spot at my big parade / You're all invited on my comeback day / I'll serve you ice cream and lemonade / Hey, Hey."
More From Taste of Country