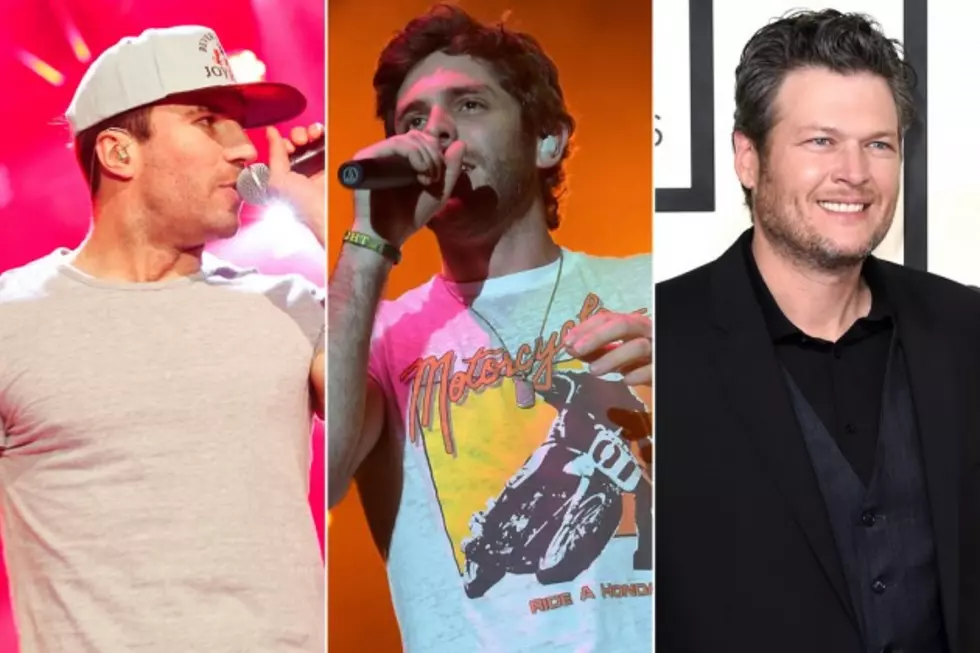 Top 40 Country Songs – March 2015
Terry Wyatt / Rick Diamond / Jason Merritt, Getty Images
The No. 1 song on the March 2015 edition of the Top 40 Country Songs list isn't a radio hit yet, but it's been the most impressive sales story of the year. Few artists have more heat than this guy, and while he may be controversial, it's difficult to deny his rising popularity.
Last month's top song from Florida Georgia Line remains in the Top 20, but some shuffling means there's plenty of room near the top for artists like Zac Brown Band, Lee Brice and Blake Shelton. Newcomers a Thousand Horses crack the Top 10 with their fast-rising debut single "Smoke," while Miranda Lambert's "Little Red Wagon" represents the first female solo artist on the list at No. 17.
Kenny Chesney and Eric Church are two superstars with new singles on this Top 40 list for the first time. Keith Urban's "Raise 'Em Up" is among the biggest gainers, jumping from No. 30 to No. 10 in just one month.
The list of Top 40 Country Songs of March 2015 is compiled from Billboard chart data and sales figures, in addition to staff opinion and reader feedback.
Top 40 Country Songs for March 2015:
40. Frankie Ballard, "Young & Crazy"
39. Gloriana, "Trouble"
38. Mickey Guyton, "Better Than You Left Me"
37. Josh Turner, "Lay Low"
36. Reba McEntire, "Going Out Like That"
35. Joe Nichols, "Hard to Be Cool"
34. Kelsea Ballerini, "Love Me Like You Mean It"
33. Dustin Lynch, "Hell of a Night"
32. Brantley Gilbert, "One Hell of an Amen"
31. Brad Paisley, "Crushin' It"
30. Eric Church, "Like a Wrecking Ball"
29. Billy Currington, "Don't It"
28. Rascal Flatts, "Riot"
27. Lady Antebellum, "Freestyle"
26. Canaan Smith, "Love You Like That"
25. Kip Moore, "I'm to Blame"
24. Easton Corbin, "Baby Be My Love Song"
23. Eric Paslay, "She Don't Love You"
22. Kenny Chesney (Feat. Grace Potter), "Wild Child"
21. Tim McGraw (Feat. Catherine Dunn), "Diamond Rings and Old Barstools"
20. Jake Owen, "What We Ain't Got"
19. Little Big Town, "Girl Crush"
18. Carrie Underwood, "Little Toy Guns"
17. Miranda Lambert, "Little Red Wagon"
16. Dierks Bentley, "Say You Do"
15. Darius Rucker, "Homegrown Honey"
14. Florida Georgia Line, "Sun Daze"
13. Chris Young, "Lonely Eyes"
12. Tyler Farr, "A Guy Walks Into a Bar"
11. Randy Houser, "Like a Cowboy"
10. Keith Urban (Feat. Eric Church), "Raise 'Em Up"
9. A Thousand Horses, "Smoke"
8. Cole Swindell, "Ain't Worth the Whiskey"
7. Brett Eldredge, "Mean to Me"
6. Jason Aldean, "Just Gettin' Started"
5. Lee Brice, "Drinking Class"
4. Zac Brown Band, "Homegrown"
3. Blake Shelton (Feat. Ashley Monroe), "Lonely Tonight"
2. Thomas Rhett, "Make Me Wanna"
1. Sam Hunt, "Take Your Time"
Did Your Favorite Song Make Our Top 40 Country Songs List for March 2015?
What would you add to our list of the Top 40 country songs for March 2015? Share your opinions on this list — as well as the songs that deserve to be included, but weren't — in the comments section below.
Check Out the TOC Artists to Watch for 2015
More From Taste of Country