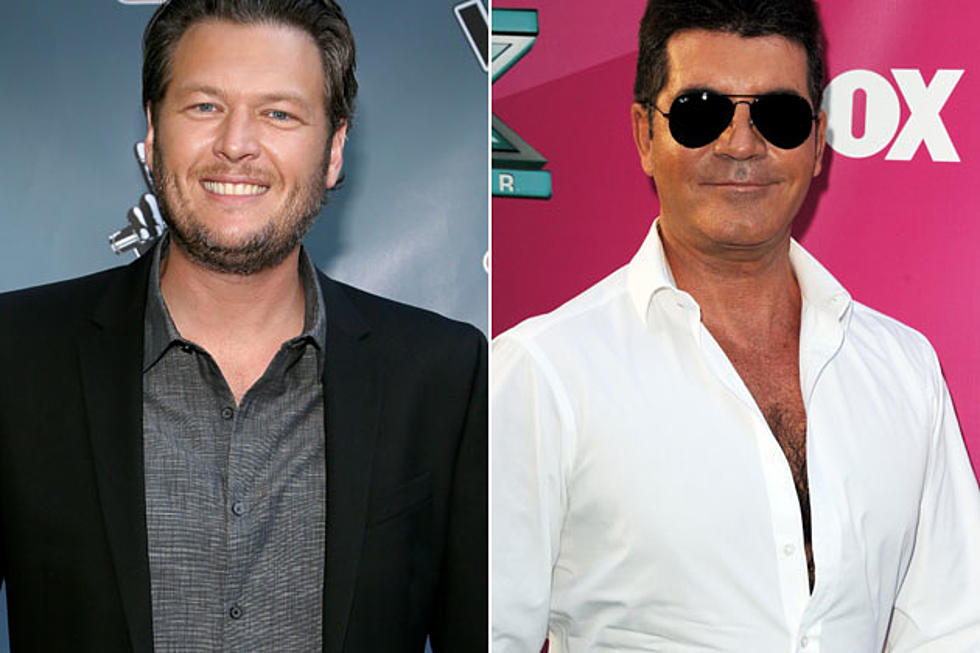 Blake Shelton Fed Up With Simon Cowell's 'Mouthing Off' About 'The Voice'
In what looks to be the celebrity feud of the month, 'The Voice' coach Blake Shelton and 'X Factor' creator and judge Simon Cowell have faced-off in a war of words, sharing their distaste for one another's prime time reality show. After it was revealed that the two titanic television season premieres would go head-to-head in ratings this evening (Sept. 12) on NBC and Fox, respectively, Cowell expressed his distaste -- and Shelton followed.
Things first heated up earlier this week after Cowell put 'The Voice' producers on blast, pointing out that the three-episode premiere of the Shelton's show directly conflicted with his own season opener, and that the newly-expanded format of 'The Voice' was in bad taste, because he thinks "there's a kind of gentleman's agreement."
"I think it's mean-spirited, and I hope and I pray that it backfires on them, because it's one of the best shows we've ever made," Cowell said of the direct conflict, adding that three consecutive nights of 'Voice' is "too much" and viewers will choose 'X Factor.'
That didn't sit well with country's own 'Over' singer.
"Every time I turn around the guy is mouthing off," Shelton said an interview with Access Hollywood. "Don't y'all wish you had time to sit around and b---h and moan like that guy does?"
The infuriated Oklahoma native continued his unapologetic response, sharing, "Every time I turn around, he's mouthing off about our show. It's like, 'Do your own show! Come on! Put something together there and do your thing. We'll just do ours and we won't mouth off about you.'" He added of Cowell, "I wish I had that much time. The guy must just have more free time than he knows what to do with."
Though Shelton claims no producer credits on 'The Voice,' the singer seemed adamant about personally defending his show's integrity. Shelton and co. did beat out 'X Factor' in the ratings last year, but Cowell is optimistic he will be able to topple his direct competition with the inclusion of Britney Spears on his revamped judging panel.
"With Britney, everybody expects there's going to be some kind of car crash with her," he explained. "But it's not. She's very switched on, very focused. She has good taste, and from working with her you can understand why she's lasted so long in the industry."
'The Voice' is set to air it's third episode this week tonight at 8PM ET on NBC, while the 'X Factor' will premiere on Fox during the same timeslot. Which show are you rooting for? Let us know!
More From Taste of Country