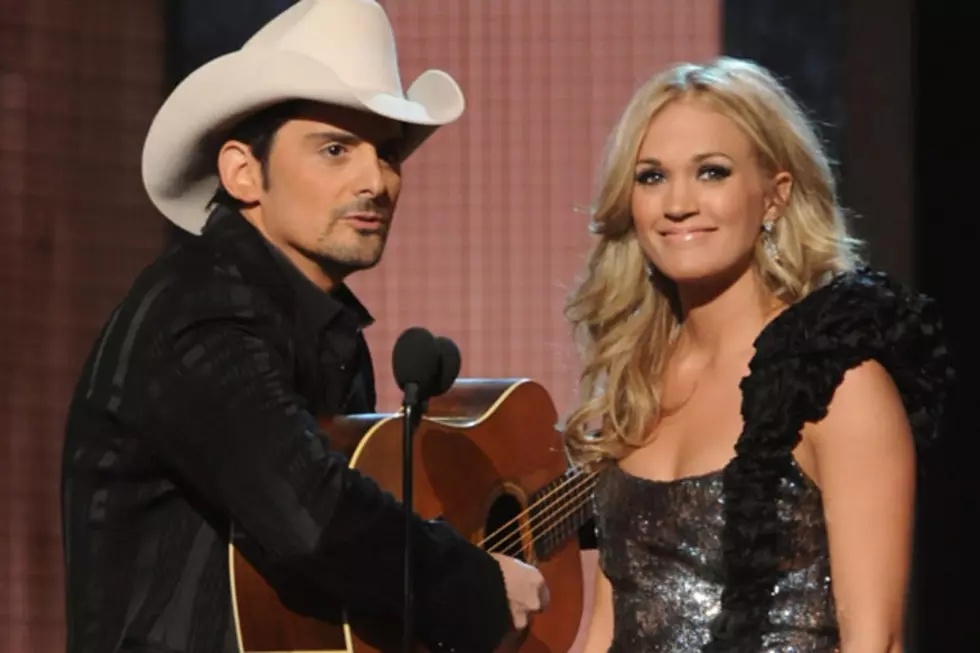 Brad Paisley's Son Tries to Impress Carrie Underwood With 'Cave Man' Moves
Before Brad Paisley filmed the 'Remind Me' video, his son Huck (William Huckleberry) had a chance to meet Carrie Underwood for the first time. The 4-year-old has long had a crush on the blond singer, and Paisley says his boy made the most of his opportunity.
"He got all excited. He had to pick out what he was gonna wear," Paisley said during Sunday's CMA Awards press conference for radio stations. "He picked out a Batman shirt." Paisley and Underwood are once again hosting Wednesday night's ABC broadcast.
"[He] bought me flowers, wrote me a note, showed me karate moves and stuff," Underwood added, smiling. It's clear she finds the adulation adorable. Paisley finds it hilarious, if not a little confusing.
"And then I looked over," Paisley continued, "and they had been talking for a little bit, and he's standing beside the couch … and he's got the pillow from the couch and he's pushing it up as high as he can get it over his head and he goes, 'Hey, Carrie. Look how strong I am.'"
"I don't know what kind of cave man these kids turn into, but it sort of starts really early," Paisley said. He then went on to share that Huck has been checking out other women recently, specifically Kimberly Perry from the Band Perry, who'll be touring with Paisley in 2012.
"There's still Jasper," the shocked and heartbroken Underwood meekly whispered into her microphone. Jasper is Paisley's youngest son, who has also shown interest in Underwood. When the two met, he stared up at the singer for an uncomfortable amount of time.
Both videos below are well worth the watch, but you'll find the two discussing Underwood's new love interest at the 5:45 mark of the first clip.
Watch Brad Paisley and Carrie Underwood's 2011 CMAs Press Conference (Part 1)
Watch Brad Paisley and Carrie Underwood's 2011 CMAs Press Conference (Part 2)
More From Taste of Country