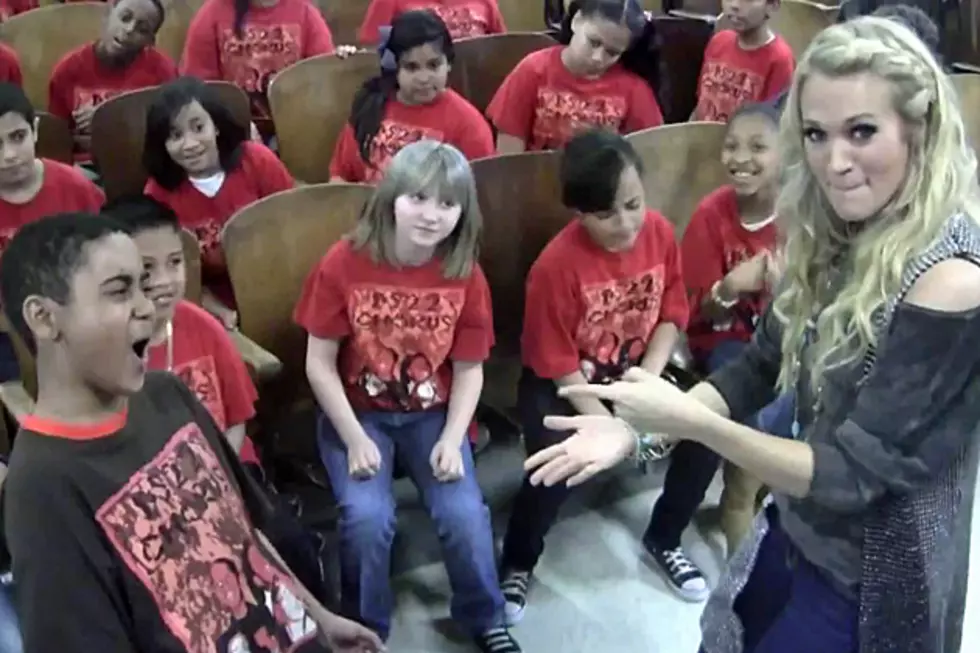 Carrie Underwood Stops by Elementary School to Perform 'Good Girl' With Fifth Grade Chorus
YouTube
At PS22 in Staten Island, N.Y., a chorus of talented fifth graders has garnered some national attention by performing hit songs with famous musicians like Gym Class Heroes, Ingrid Michaelson, Adele... and now, country's own gem Carrie Underwood. Led by their instructor, talented piano player Gregg Breinberg, a few dozen chorus members gathered in the school auditorium recently to sing 'Good Girl' with Underwood, whose typically larger-than-life voice was almost overpowered by the kids' skills.
In the goosebump-inducing performance, one of the fifth grade students pounded on the drums, while Breinberg played the keys and the country songstress shared vocals with a really lucky young guy. The boy, who looks to be about 11 years old, had no trouble hanging with Underwood. In fact, he was so talented in his performance that she had some kind words to say about him and his fellow classmates at the song's end.
"I think myself and everyone else in the music industry right now needs to be worried, because they're getting older, and so you guys are going to put us all out of a job!" she said during a video interview after the performance.
The 'Good Girl' singer also had kind words to say about the choir instructor.
"I feel like I'm a part of the choir now, and my experience at PS22 has been amazing," she told him. "I would like to thank all of you guys for having me here and singing my songs, and making them sound better than I ever could! It just made my heart happy to be here. I would have loved to have been a part of your choir way back when."
Of course, PS22 was delighted to share the stage with Underwood for the day. They even presented her with her own adult-sized chorus T-shirt, and she said she would wear it proudly. Our description of these talented fifth-graders just doesn't do them justice. You'll have to watch the video to see for yourself!
Watch Carrie Underwood Sing 'Good Girl' With the PS22 Chorus
More From Taste of Country