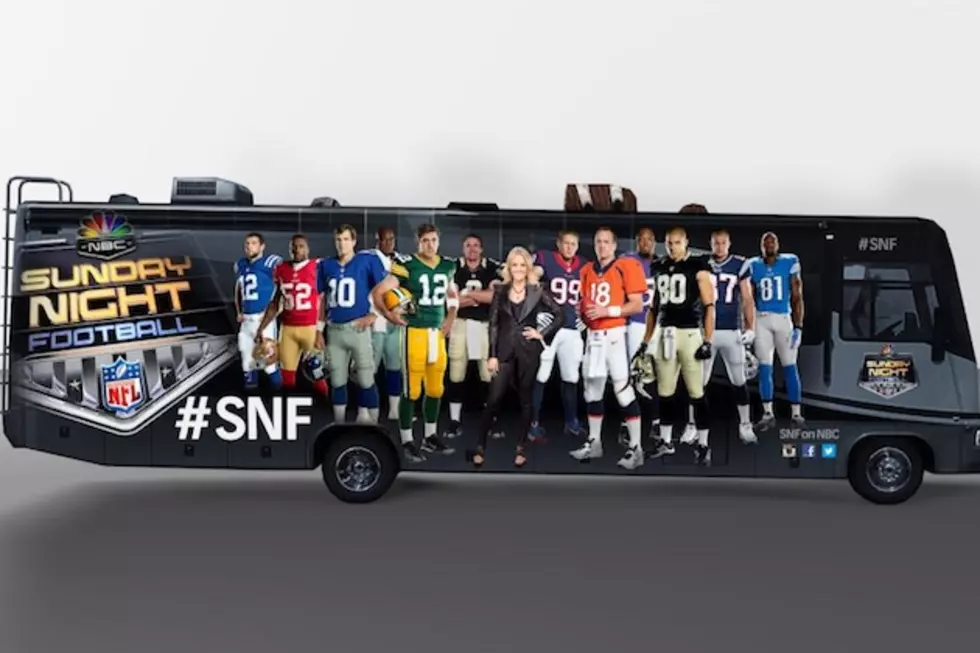 Carrie Underwood Is One of the Boys on the Side of 'Sunday Night Football' Bus
NBC
Normally, Carrie Underwood is featured alone on the side of tour buses, but this time, she is just one of the boys. The 'Sunday Night Football' bus, ready to hit the road this football season, pictures the gorgeous songstress alongside of a whole slew of football favorites. 
The bus visits the city of each 'Sunday Night Football' game (17 in all) a few days before each kickoff. Now that Underwood is a part of the crew, the bus showcases the petite 'See You Again' hitmaker front and center in a black leather blazer, surrounded by 12 massive football players, including Aaron Rodgers of the Green Bay Packers and Andrew Luck of the Indianapolis Colts. Not only does the bus visit each game's city, it also makes stops at local landmarks and events in each market before making its way to the game site for a full Sunday at the stadium.
Underwood -- who took over for Faith Hill singing the 'Sunday Night Football' theme -- has been really excited about this new venture, saying she "can't wait" to start singing 'Waiting All Day for Sunday Night.' NBC premiered her take on the song during the Television Critics Association press tour in Beverly Hills, and while many were wondering if Underwood would change it up, it's actually not much different from Hill's version.
On Sept. 8, everyone will hear the songstress' debut of the song when the New York Giants take on the Dallas Cowboys. Football fans and country fans alike will be glued to the TV for America's most-watched primetime event -- ready for another season of Sunday Night Football and a chance to hear Underwood's powerhouse vocals on the ever-familiar song.
More From Taste of Country