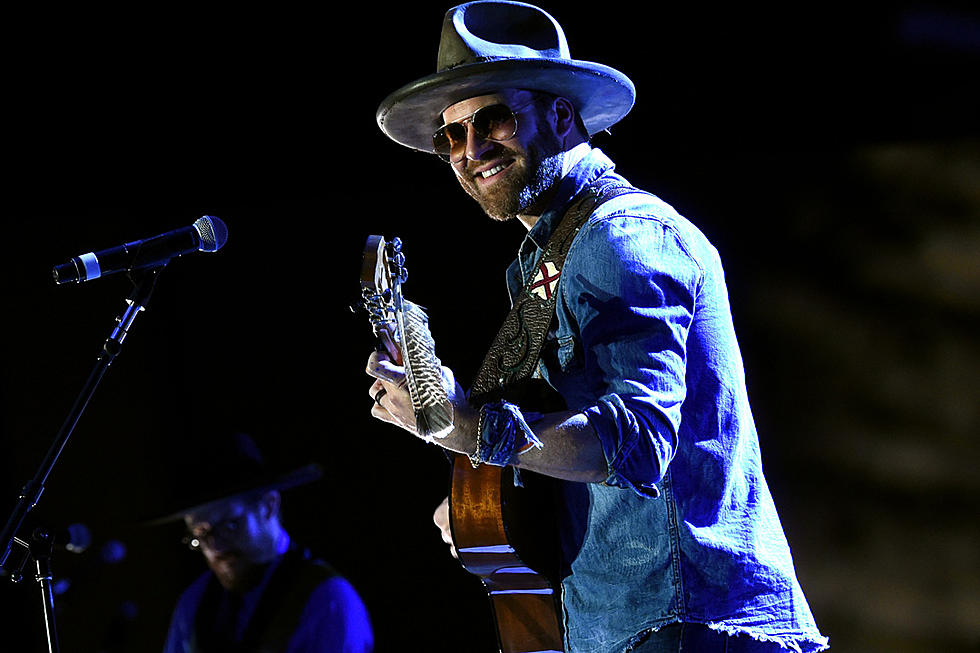 The New Drake White Is Untamed and Focused
Rick Diamond, Getty Images
Drake White recognizes that his music sits left of mainstream, but he really wants it to work on country radio. His soulful, country-blues vocals are rolled in Alabama mud, and thus far he's rejected that clean Nashville sound.
But White knows that if he can find a satisfying compromise, it'd accelerate a vision he has had for his career and music since he was a child.
"I think the best music is reckless and it's dangerous," he says, sitting with an acoustic guitar on his lap after previewing four of the five songs from his new Pieces EP (May 4) with a small group of media. Art is subjective in his mind. Some like the pristine sounds of Harry Connick Jr., Celine Dion and Brett Eldredge, while others prefer unhinged, imperfect lyrics from Bob Dylan. Some place in the middle is where magic happens — at least magic on a commercial level.
"How do you do that in 2018? That's what I'm figuring out," the 34-year-old tells Taste of Country.
"I've got a sound in my head that's been in my head since I was a kid," he begins, now pausing as he works for the first time to choose the right words to describe where he's headed with this EP and the next, "and it's that sound of that band sitting on the side of the river playing soulful country music that makes people laugh, dance and cry."
Fans heard that on Spark, a critically acclaimed album from 2016 that notched just one Top 20 hit in "Livin' the Dream." Two more, including the slow, yearning "Makin' Me Look Good Again," stalled early and sent White — an artist who's been after his dream for a full decade — back to the drawing board. A conversation with Maren Morris and an honest look around the room helped him make a few decisions.
Then he reached out to Busbee.
The writer and producer extraordinaire (Keith Urban, Lady Antebellum, Florida Georgia Line, Pink) isn't an obvious choice to work with White. He'd fit more naturally with someone like Jay Joyce, a man who embraces the same raw, inspired performances White yearns for. Even Busbee (real name Michael James Ryan Busbee) didn't see it, and first passed on the opportunity to work with White, until the singer-songwriter pleaded his case. It wasn't an easy marriage, he'll admit. White was asked on multiple occasions to not stray from a melody. He'd grit his teeth and try again on songs like "Nothing Good Happens After Midnight," and again they'd clash. But he's proud of the results.
"It's a more controlled," he says when pressed for an accurate description. "There's a start, middle and ending, and there's melodies that stay constant where people can learn 'em, digest 'em and sing 'em back to you."
Make a clear distinction between "controlled" and "tamed." White's strength lies in his improvisations, his guttural, emotional deliveries and the way every word seems to send shudders through his body as if he were plugged into a light bulb that kept turning on and off. That's all present on Pieces, a five-song collection of mostly love lyrics spread across a salad of sonic styles. He comes untethered in a few places, but not on nearly every song like he did on Spark.
"I really hate that way that feels to even say 'tamed' or 'sanded the edges,' because the edges are what makes great music to me," White says, later admitting the term "tamed" triggers him. "That's what makes the Rolling Stones the Rolling Stones. So I hope when you listen to the music, it doesn't sound tamed."
Pieces is just the beginning of what White has in store. He's embracing a different model of music distribution that doesn't rely on the normal promotional machine to drive. Have music, release music ... it's almost that simple, or it will be if he gets what he's after.
"I feel like I'm onto something with this stuff," White says with more emphasis than one is used to getting from a mostly patient and laid-back man. "I know I am."
These Singers are Saving Country Music!
More From Taste of Country