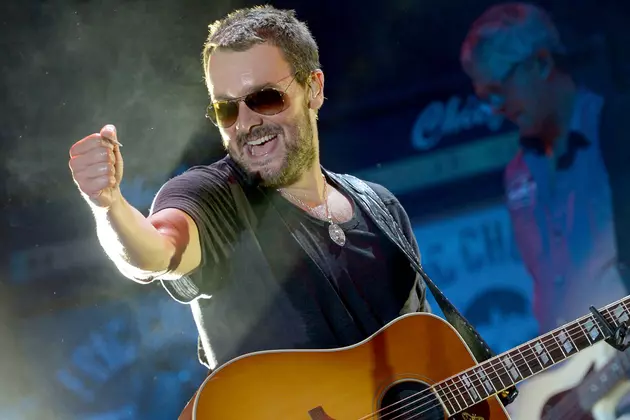 Eric Church Takes on Scalpers Again: 'You Will Not Win'
Rick Diamond, Getty Images
Eric Church is well-known for his passionate ongoing battle against ticket scalpers, and the country superstar is once again taking unusual measures to combat scalpers at an upcoming run of shows at Red Rocks.
Church released his latest album, Mr. Misunderstood, to his most hardcore fans — called the Church Choir — first and for free in November of 2015 before putting it on sale to the general public. That focus on putting his fans first also drives Church to limit ticket sales to his shows in blocks to make it more difficult for potential scalpers, but he took it a step further than that after his two back-to-back shows at Red Rocks went on sale for Aug. 9 and 10.
"I get asked all the time about my favorite venue, and I always answer the same way. Red Rocks. When people ask why, I just smile and say, 'You must not have been there.' It's truly breathtaking," Church says in a press release. "I'm honored to have two shows there."
After reviewing the orders for the two nights, Church and his team discovered 2,700 tickets that had been purchased by known scalpers, including a whopping 750 seats paid for by a Texas-based scalper ring. So Church made the decision to cancel those purchases and put those seats back on sale at standard rates, to make sure that his fans would have access to the best seats at the best prices possible. That kind of intense scrutiny of tickets sales is simply part of Church's commitment to making sure his fans always come first.
"On an ongoing basis, our team will continue to examine ticket orders and cancel tickets purchased by scalpers,' says Fielding Logan of Q Prime South, the group that manages Church.
"I do want to add a quick word about the scalpers," Church says. "I have never seen more relentless, nefarious and frankly disgusting efforts to defraud the fans and the general public. Six words for you thugs: You will not win. I will."
Church's two nights at Red Rocks are completely sold out. He will also headline at WE Fest 2016, which takes place in Detroit Lakes, Minn. Aug. 4-6.
Fans React to News That Eric Church Is Coming to WE Fest
See Eric Church and Other Stars When They Were Young
Think You Know All About Eric Church? Find Out
More From Taste of Country