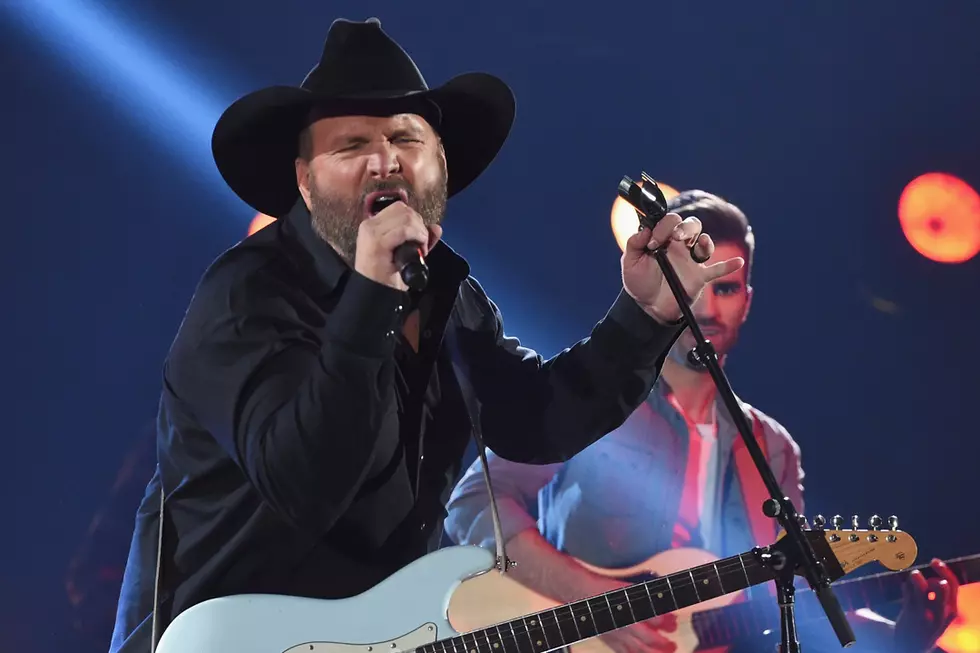 Garth Brooks' Nashville Homecoming Is a Vintage Thriller
Rick Diamond, Getty Images
On paper, Saturday night's (Dec. 9) Nashville concert was just another show — one of several hundred for Garth Brooks since his World Tour began in 2014.
The setlist was similar to the set list he used in Newark, Spokane, Paso Robles and Billings, Mont. The stage was the same — heck, the jokes might have even been the same! And everyone standing in the sold-out Bridgestone Arena felt the same as the 6.4 million fans before them: special.
To recap Brooks' live show without considering the audience's rabid, emotional overindulgence would be arrogant. A critic might pan a stage that lacks the flash of many used by top country headliners today. Skeptics have always questioned the sincerity of Brooks' endless enthusiasm. His World Tour features band members that have been with him at minimum 24 years and relies on songs that are even older. Yet the vintage nature of it all quickly goes from charming to thrilling. Nothing smells dusty like is so often the case when the word "comeback" is used to hype what's about to happen.
The Garth Brooks World Tour is part reinvention, but mostly proof that an absolute dedication to showmanship will pay dividends. The 360 degree nature of the stage forces you to follow other band members at various times, and never did any of the dozen or so people on stage look less than committed. You might think backup singer Robert Bailey is the headliner given his energetic gesticulations. As Brooks rowdies up one half of the arena in the spotlight, his bassist and keyboard player stand in the shadows doing the same for the other side of the arena. No one will ever be caught simply going through the motions. It's part concert, part theater in this way.
Saturday night's show was the first of seven in Nashville, and Brooks began with a new song, "Baby, Let's Lay Down and Dance," a Top 20 hit from his recent Gunslinger album. Playing a new song was something of a formality. "Rodeo" began a long stretch of well-known hits that included "Two of a Kind," "Beaches of Cheyenne," "The River" and "Two Pina Coladas."
"You remember the old stuff!" Brooks shouted in amazement at one point. Fans holding signs that boasted how far they came to be a part of the night shouted back at him the loudest. Nashville is an industry town that is often known for sitting on its hands even during the most impressive concert spectacles, but even the most modest of spectators were standing and singing (if not shouting) every word.
A stretch of songs that led to Trisha Yearwood's entrance may have been the concert's highlight. "Papa Loves Mama" goes into "Ain't Goin' Down" and everyone on the stage runs around like he or she is Usain Bolt (most are on the dark side of 50). "Unanswered Prayers," "That Summer," Brooks' newest No. 1 single "Ask Me How I Know" and "The Thunder Rolls" slowed things down ahead of his wife's entrance, but not at the expense of energy. As she's done so often, Yearwood entered the kickoff Nashville show to sing "In Another's Eyes" before four more of her hits.
Unlike other stars of his generation, Brooks has done nothing to reign it in. At one point he climbed on top of drummer Mike Palmer's cage. Several times he offered his signature arms out, back bent roar before looking back over his audience with wild eyes and the dangerous smile we've seen for nearly 30 years. Playing 400 hundred shows over three years is an unbelievably grueling conquest (before the show Yearwood confessed she'd gotten one steroid shot in her life prior to the two she took on this tour), but there are few visible cracks in what he's built. If anything, he wants more. A stadium tour in 2019? Brooks more than indicated that was his plan during a pre-show press conference.
He might bring the same setlist to football and soccer stadiums, but when you can close with "Shameless," "Callin' Baton Rouge," "Friends in Low Places" and "The Dance," you do it. The audience nearly split the cement pillars of this hockey arena while singing along to the third verse of "Friends In Low Places," a verse the host told them he'd not been singing on this tour. At best that claim was an exaggeration, but in the name of entertainment, it was appreciated.
Two covers made up part of the 'housekeeping' portion of the show. That's the name for Brooks' encore and as always, he took requests from fans with signs. "What's She Doing Now?" and "This Ain't Tennessee" were followed by "She's Gonna Make It" and "To Make You Feel My Love," and then he paid tribute to Keith Whitley with "Don't Close Your Eyes" and his hero George Strait with "Amarillo by Morning."
"Standing Outside the Fire" wrapped a two-hour plus concert that left fans exhausted and wanting more. Guest artists and surprises promised to make the next six shows in Nashville unique, but it's not even necessary. Brooks could do the same exact thing he's been doing for three years and come away a winner. It's a show driven by want-to, musicianship, high quality songwriting and enough energy to power Music City's lower Broadway.
See Pictures From Garth Brooks' Current World Tour
True Story! Garth Cut His Biggest Hit for His Hero!
More From Taste of Country