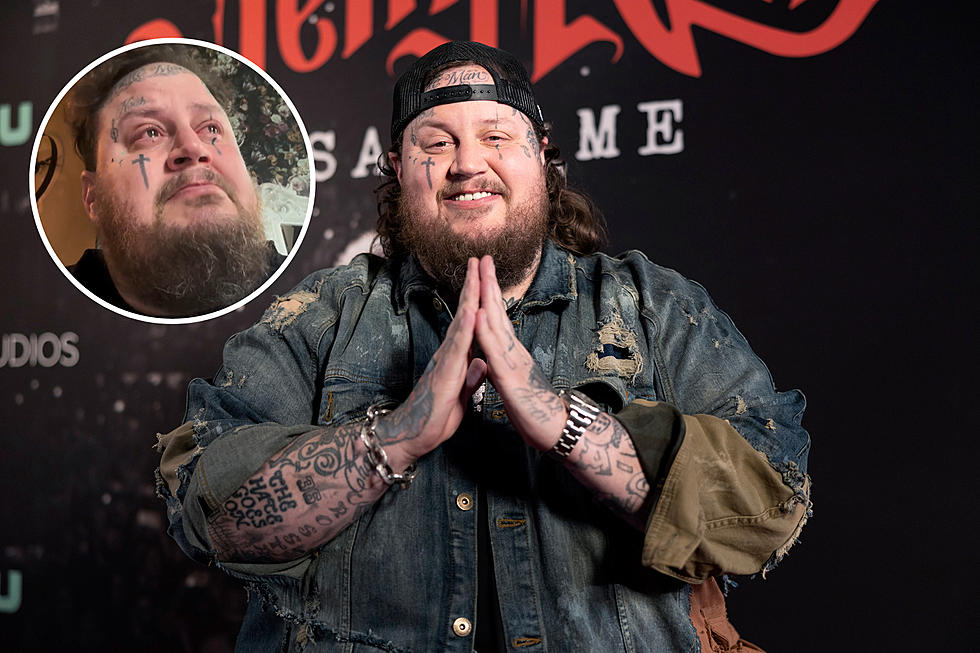 Jelly Roll Breaks Down After First Grammy Nomination: 'I'm Embarrassed' [Watch]
Jason Kempin, Getty Images/Instagram
Jelly Roll turned to social media to share his emotional reaction after receiving his first-ever Grammy Awards nomination on Friday morning (Nov. 10), and the fast-rising country singer didn't hold back the tears at the career-changing news.
The "Save Me" singer weeps openly in the clip he posted, saying, "The greatest honor that an artist can ever hear is that they've been nominated for a Grammy."
RELATED: 2024 Grammy Awards: Full List of Country Nominees + More
"I got to hear that this morning," he adds, wiping his eyes.
The singer admits that he had to record his message seven times due to his overwhelming emotions.
"I haven't cried like this since my daddy died," he shares, adding, "I love y'all, man ... so f--kin' much."
Jelly Roll is among the 2024 Grammy Awards nominees in the all-genre category of Best New Artist, and he also shares a nomination with Lainey Wilson for Best Country Duo/Group Performance for their collaboration on "Save Me." The rapper-turned-country star captioned his post by saying that he wasn't sure about sharing such an unfiltered reaction to the news, but his wife, Bunnie Xo, convinced him that it was part of his appeal.
"I'm embarrassed to post this but my wife says honesty and rawness got me this far," he writes. "I'll post a more complete thought about this when I get my head together. I just never would've imagined."
Jelly Roll's Grammy nod comes just days after he won New Artist of the Year at the 2023 CMA Awards on Wednesday (Nov. 8).
RELATED: Oh No! Jelly Roll Dropped His First-Ever CMA Award and Broke It
He also opened the CMAs broadcast by teaming with Wynonna Judd for a joint rendition of "Need a Favor," and he and K. Michelle closed the show by performing a gospel version of the Judds' classic anthem, "Love Can Build a Bridge."
Jelly Roll + Bunnie Xo Get Matchy on the 2023 CMA Awards Carpet
Jelly Roll and his wife Bunnie Xo sparkled in matching black outfits as they walked the red carpet before the 2023 CMA Awards. Jelly walked into the show as one of the night's most nominated artists, with five mentions across several different categories.
Gallery Credit: Carena Liptak
10 Things You Didn't Know About Jelly Roll
The
Jelly Roll: Save Me
documentary on Hulu tells
Jelly Roll'
s complicated life story and spares no details. He's shockingly honest about addiction, prison, his childhood and his insecurities. Here are 10 key takeaways from the project.
Gallery Credit: Billy Dukes
11 Songs that Foreshadowed Jelly Roll's Country Music Career
Jelly Roll has taken the country music world by storm over the past year, and he will release his first full-length country album, Whitsitt Chapel, on June 2. Before he jumps right into the deepend of the genre, let's take a walk down memory lane. There are 11 songs that seemed to foreshadow his country music career.
More From Taste of Country