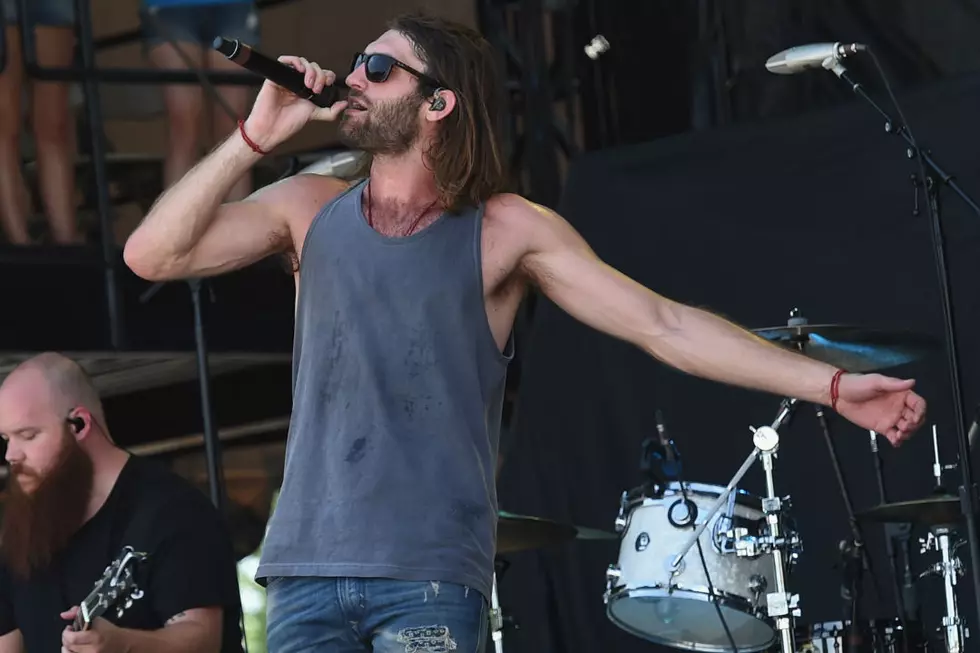 Ryan Hurd's 'We Do Us' Is Helping Him 'Do Him' — As an Artist
Rick Diamond, Getty Images
Singer-songwriter Ryan Hurd is best known for the songs he's written for other artists, like Blake Shelton, Jake Owen and Rascal Flatts. But that's changing. Hurd's voice on his single "We Do Us" is now spinning to the tune of 2 million Spotify plays in only one month.
When Hurd walked into his co-write with Laura Veltz and Mikey Reaves, he didn't know he'd be writing his next release as an artist. Veltz had the song title, Reaves had the track, and together they filled in the lyrics to a song about the fun people have in a relationship (Hurd is currently dating rising country star Maren Morris).
"I just thought about going to a party, and I love tequila and like things that are very emotive and fun and joyful ..." he says of his writing brainstorm. "The fun part of a relationship when it's just starting out and what that feels like. I think we did that, it's a really fun song. It's a love song and those two things don't always go together so it's a really cool thing to have that."
"It's been fun to add some brightness in to what we're doing. I'm still going to do heavier topics and there's still going to be depth to the writing and the things that we record, but I'm at a really cool part in my life where there's a lot of fun and happy things going on. It's nice to have the music reflect that. I've worked really hard to try a lot of things and now that we have a direction, it's nice that it's a fun direction and a happier one."
"We Do Us" made its debut on Spotify, and a live video for the song was featured in Vevo's Dscvr program. As an unsigned artist, it's especially important for Hurd to take advantage of unconventional partnerships like these.
"Whenever you put out music you're just rolling the dice and the nice thing with Spotify is they're willing to roll them with you. They're willing to try things on new artists like me ... It's not some guy in New York City telling people what they can and can't listen to based on the radio," he explains. "It's just people who are willing to let fans decide what they like … We wanted to have a story to tell before we got to do any radio, and before we went in to actual record land. We wanted to have some sort of foundation of people knowing my music and knowing what I am about."
"We Do Us" has been a hit with listeners of the fan and friend variety. Tons of artists reached out to Hurd following the Spotify release, including Jake Owen, Drake White, the Cadillac Three and Steve Moakler.
"I've been a songwriter for the last four years exclusively, and to have the validation from other artists saying that they like the music I'm putting out as an artist, it gives me a lot of credibility with the people who didn't think this was something I was really gonna chase down," Hurd says. "It's very validating to have people who do what you do react to a song in a cool way."
Hurd's girlfriend was also very proud, writing an adorable message to him on Instagram that ended with, "You deserve this, babe." He and Morris were together when the song dropped, and she couldn't contain her excitement.
"I was out with Maren on the Keith Urban Ripcord Tour and the song came out at like 11 o'clock on a Thursday night," he recalls. "It was surreal to see it pop up and be public. She obviously took it and ran back to the bus and plugged it in to the speakers and turned it up as loud as it went and made everybody listen to it. It was really fun. I love being out on the road with them and watching all that happen, but it felt like, 'Okay, now my journey's kicking in, too.'"
Hurd's journey as an artist is just beginning. He'll have three more songs released on Spotify this year, starting with "Love in a Bar," which is available Friday (Sept. 16). That'll be just in time for his run on Chase Rice's Everybody We Know Does Tour. Hurd will be direct support for Rice — something he calls "weird," but "cool."
"Chase is a great artist and he's got really loyal fans," he says with a smile. "I think about the other people who've opened up for him, going on this same tour and using it as a launch pad for their careers ... It's such an awesome opportunity. Sam Hunt did this tour and Old Dominion did this tour. It's an incredible opportunity that I'm really thankful for."
Hurd will be out with Rice from September to December, all while his new music is rolling out for streams. Be sure to keep up with his journey here and follow him on Spotify.
Watch Ryan Hurd's Live "We Do Us" Video
10 Sexiest Male Country Stars of 2016
More From Taste of Country