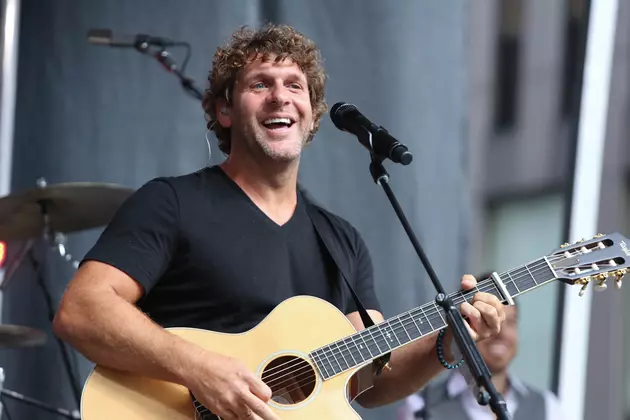 Lyrics Uncovered: Billy Currington, 'It Don't Hurt Like It Used To'
Rob Kim, Getty Images
Billy Currington's "It Don't Hurt Like It Used To" lyrics almost fell from the ceiling when he met up with co-writers Shy Carter and Cary Barlowe in Nashville. The singer admits he leaned into an old relationship for parts of the song. It's his only co-write on Summer Forever.
"I may or may have not knew someone from Alabama, back in the past," Currington tells Taste of Country, laughing as he thinks over the "Did all I could to try to make it work / But you drug my heart through the Alabama dirt" line from the first verse. It was his guitar chords and a few mumbles that started a fairly quick writing process. Barlowe picked up a guitar and added a riff and in 90 minutes the trio had the "It Don't Hurt Like It Used To" lyrics written.
Perhaps the funny part is that they weren't even meeting up to write. The 42-year-old singer says he had just finished recording vocals for "Don't It," his No. 1 hit from Summer Forever, when he remembered Carter was in town. So he called his friend and co-writer and learned he was with Barlowe at Major Bob Music, Currington's old publishing house.
"I used to actually sleep on the couch there," he says, thinking about the warm memories from early in his career. "When they gave me a publishing deal, they allowed me to sleep on the couch because I had no place to live."
The three got together at Major Bob's and wrote the song in Currington's old writing room. The memories of the place may have inspired him, he admits. Heartbreak certainly did. He's had a few painful splits, but it's been a few years since he's been left broken and busted.
"They don't feel good and you definitely still hurt inside," Currington says. "Maybe that's where those songs come from."
Currington will begin his Summer Forever Tour in February, with Kelsea Ballerini on select dates through April. He'll also play WE Fest in Detroit Lakes, Minn. in August.
More Lyrics Uncovered: Dirt Lyrics | Aw Naw Lyrics | I Believe Lyrics | I Want Crazy Lyrics | Over You Lyrics | Begin Again Lyrics | Two Black Cadillacs Lyrics | Highway Don't Care Lyrics | Red Lyrics
See Billy Currington + More Country Artists as Children
More From Taste of Country