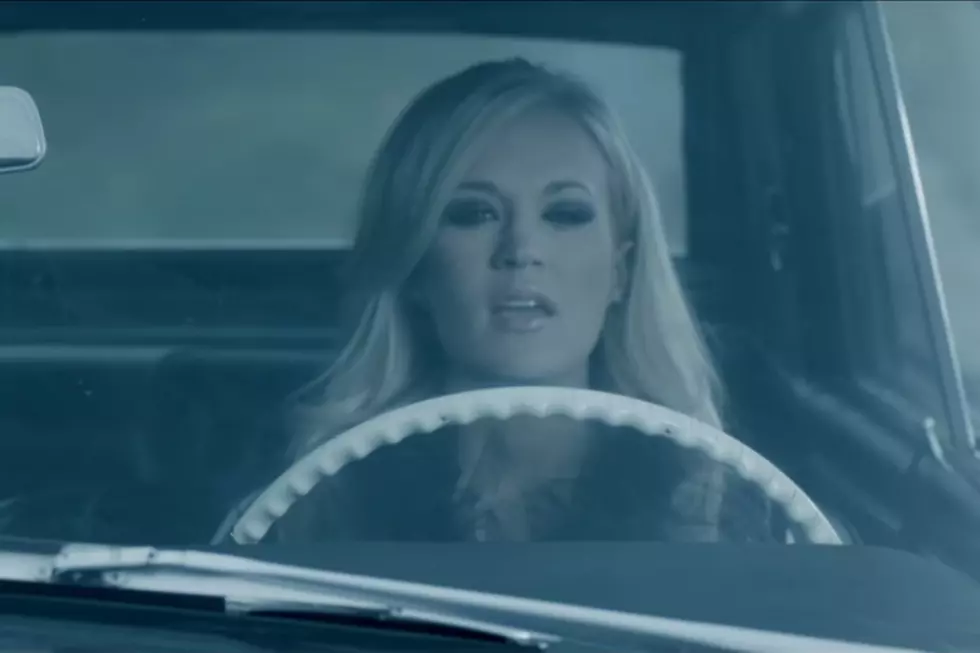 5 Most Killer Carrie Underwood Songs
CarrieUnderwoodVEVO via YouTube
When most people hear Johnny Cash sing, "I shot a man in Reno just to watch him die," we think, 'Wow, that's really dark.' When Carrie Underwood hears that, she thinks, 'Amateur.' The country superstar has amassed the biggest body count in the history of country radio, and the death toll seems likely to keep on rising.
On a personal level, Underwood seems surprisingly normal for a superstar. She's a sweet, somewhat demure person, soft-spoken and with an innocent face that makes it hard to imagine anything but the purest thoughts circulating in her head. She doesn't hesitate to publicly proclaim her Christian faith (both in interviews and in song), and her idea of a good time tends to center on family activities.
But Underwood admits to a darker side that includes watching slasher films and reading Stephen King novels. She's also killed more people in songs than any other artist in contemporary country music, and she does it in such a toe-tapping way that she consistently makes premeditated murder the subject of mainstream country radio hits. It's something that is so well-known in Nashville that songwriters know they have free reign to write from that perspective if they are pitching songs to Underwood.
"I love kind of cinematic songs and I feel like that's something that country music can do that it sets us apart from the other music," Underwood told Ryan Seacrest at the 2017 Grammy Awards. "You have the story songs. You can kill a guy in a song and it's OK and I love that."
5

"Choctaw County Affair"

From: 'Storyteller' (2015)

Unlike the other tracks on the Killer Carrie Underwood Songs list, "Choctaw County Affair" was never a radio single. But hey ... murder's murder, right? Jason White crafted this outstanding album track from Storyteller, which tells the story of Cassie O'Grady, a society woman who's not as nice as everyone in town likes to pretend. She crosses the wrong people when she threatens blackmail, and while "there's no body, there's no witness," and we never know quite what happened to Cassie, the song makes clear that she's no longer among us. Like all of Underwood's murder songs, the narrator gets away with the crime: "But the foreman of the jury / Told me, 'Honey, don't you worry / It's a Choctaw county affair.'"

4

"Just a Dream"

From: 'Carnival Ride' (2007)

"Just a Dream" is an exception on this list in that Underwood's character doesn't actually kill her husband in the lyrics. Instead, songwriters Steve McEwan, Hillary Lindsey and Gordie Sampson lull the listener into thinking Underwood's narrator is going to her wedding, only to twist and reveal that she's going to his funeral after he's been killed in action. Released at the height of America's involvement in Afghanistan and Iraq, the song resonated with listeners everywhere.

3

"Church Bells"

From: 'Storyteller' (2015)

The third single from Storyteller is a classic Underwood underdog revenge tale in which Jenny marries a rich man who turns out be an abusive husband. She solves her problem the old-fashioned way: "Jenny slipped something in his Tennessee whiskey / No law man was ever gonna find / And how he died is still a mystery / But he hit a woman for the very last time."

Zach Crowell, Hillary Lindsey and Brett James collaborated on the song, and Crowell tells Taste of Country that writing with Underwood in mind allowed them to take a route a Nashville songwriter normally might avoid.

"I don't know if I had ever written a song before where you have to kill off one of the people, and it was kind of fun. I remember kinda giggling, talking about, 'Okay, how should we kill this guy?'" he says with a laugh. "I remember sitting there saying, 'Oh, this is kind of awesome, to think kind of like a Hollywood screenwriter would come up with something."

2

"Blown Away"

From: 'Blown Away' (2012)

Written by Chris Tompkins and Josh Kear, the title song from Underwood's Blown Away album draws on Underwood's own home state of Oklahoma to tell the story of a girl being raised by an abusive, alcoholic father. She doesn't kill him with her own two hands in this instance, but she nonetheless brings about his death when a tornado hits while he's passed out drunk: "She locked herself in the cellar / Listened to the screaming of the wind / Some people call it taking shelter / She called it sweet revenge."

1

"Two Black Cadillacs"

From: 'Blown Away' (2012)

Underwood actually participated in the murder plot first-hand in "Two Black Cadillacs," which tops our Killer Carrie Underwood Songs list. She co-wrote the song with Hillary Lindsey and Josh Kear, and in this case they cooked up an elaborate scheme for a scorned wife and jilted lover to get revenge on the man who has cheated them both: "Two months ago his wife called the number on his phone / Turns out he'd been lying to both of them for oh so long / They decided then he'd never get away with doing this to them / Two black Cadillacs waiting for the right time, right time." 
More From Taste of Country