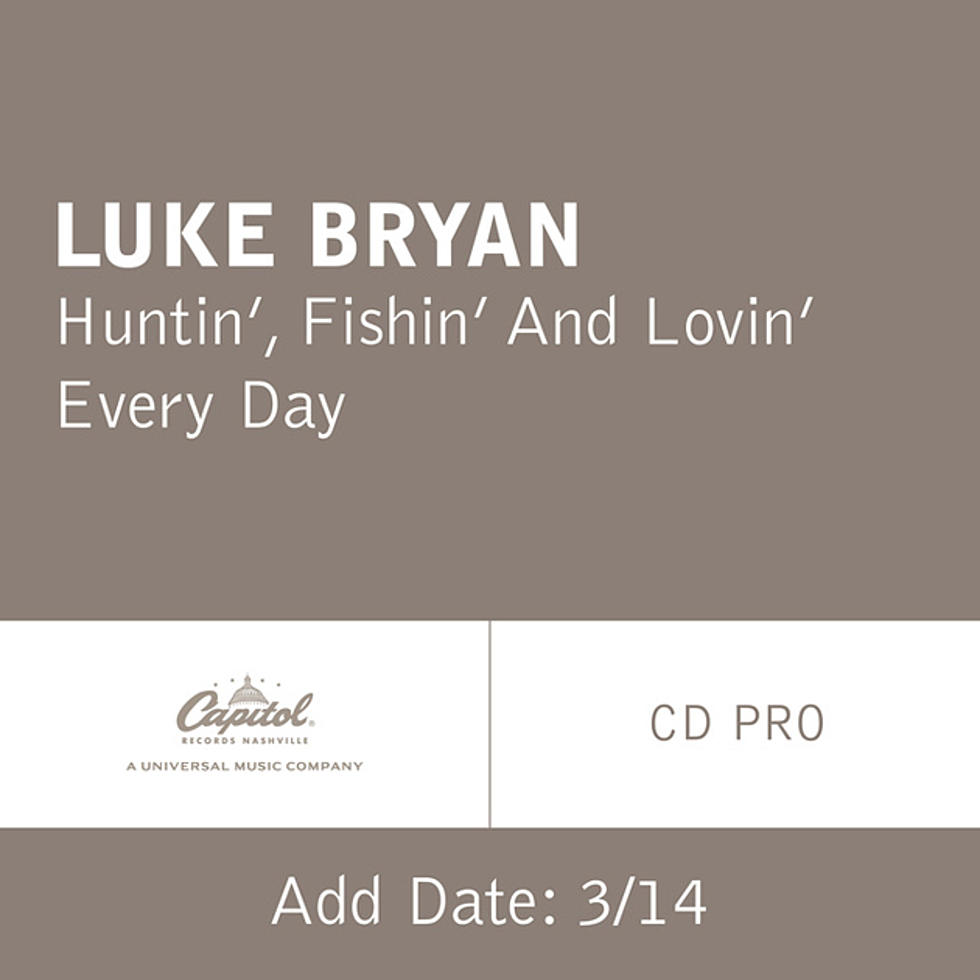 Luke Bryan, 'Huntin', Fishin' and Lovin' Every Day' [Listen]
Capitol Nashville
Luke Bryan does his best Alabama impersonation with "Huntin' and Fishin' and Lovin' Every Day," the fourth single from Kill the Lights. Sonically the song is a throwback to the mid-80s — think Cajun hideaways and couples turtle-dovin' on Mason Dixon nights.
The singer's simple message will further endear him to the fans who already buy his albums, scream the words to every song at concerts and hunt in his brand of camouflage. He's a master at giving his audience the music they want, but in this case he also pays homage to a classic sound that (if you listen closely) is making a comeback. "Huntin' and Fishin' and Lovin' Every Day" is filled with details that feel specific to Bryan's life or raising. It's truly difficult to doubt his country boy creds.
The singer wrote this song with the Peach Pickers, familiar writing partners who've helped pen many of his biggest hits. One may have been able to guess that, as the story tells like a Dallas Davidson story: straight-forward, detailed, colorful and rooted in South Georgia lifestyle.
Did You Know?: Luke Bryan has released three singles that mention Georgia's Flint River. Tyler Farr and Justin Moore also have one each.
Listen to Luke Bryan, "Huntin', Fishin' and Lovin' Every Day"
Luke Bryan, "Huntin', Fishin' and Lovin' Every Day" Lyrics:
"If I could make a livin' from walkin' in the woods / You can bet I'd be sittin' pretty good / High on a hill, lookin' at a field down wind / If I could make a nickel off of turnin' them bass / Never worry 'bout the price of gas / I'd be wheelin' and dealin' and sittin' there reelin' em in."
Chorus:
"Huntin', fishin' and lovin' every day / That's the prayer that a country boy prays / Thank God he made me this way / Huntin', fishin' and lovin' every day / Early in the mornin', late in the evenin' / I'm gettin' red dirt rich and Flint River paid / Huntin', fishin' and lovin' every day."
I get a little farm pond buzz / Sound of gravel when I'm backin' up / Pullin' the string on a 9.9 two-stroke, Mercury / I love it when my baby wants to roll with me / Throws her boots on, climbs in a tree / Tuckin' her hair in my hat and she's ready to go / And we get to …"
"So, while y'all are up there / Breathin' in that old dirty air / I'll be down here knee-deep in the Muckalee."
"Huntin', fishin' and lovin' every day / I wanna see them tall pines sway / Y'all close them eyes / Let's go there in our minds."
"Black coffee in the mornin' / Dark whiskey in the evenin' / I'm gettin' red dirt rich and Flint River paid / Huntin', fishin' and lovin' every day."
"Won't you come along with me / Won't you come along with me / I know you wanna see / Huntin', fishin' and lovin' every day."
More From Taste of Country