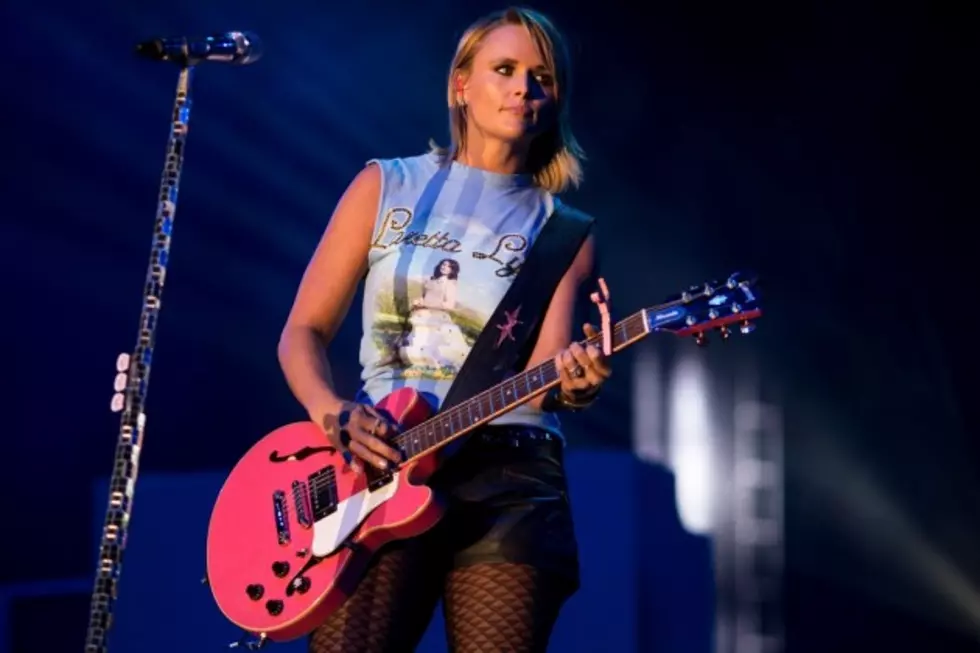 Miranda Lambert Resurrecting Roadside Bars and Pink Guitars Tour for 2015
Christopher Polk, Getty Images
Miranda Lambert is going back to the future. The country superstar is resurrecting her Roadside Bars and Pink Guitars tour for a run of dates in the fall.
That was the name of Lambert's first-ever headlining tour in 2010, but this year's shows will have a slightly different focus. While her 2010 dates included appearances from David Nail, James Otto and Randy Houser, this year's concerts will follow in the footsteps of her recently-wrapped Certified Platinum tour and feature an all-female lineup.
"God Made Girls" singer RaeLynn will reprise her appearances on Lambert's most recent dates, and fellow Pistol Annies member Ashley Monroe will also appear again on select dates. The tour will also feature Clare Dunn, who Lambert recently saw perform at the Stagecoach Festival.
"I hadn't seen her before — but I'm a fan now," Lambert says. "You don't see that many women who get up there and really slay a guitar and play some real rock 'n' roll country."
The tour will introduce audiences to Courtney Cole, whose debut single "Drunk" made an impact on Spotify and is now available at iTunes. Cole's four-song acoustic EP, #NoFilter, is currently available exclusively at Spotify.
"I really support female artists in any genre, especially country music right now," Lambert explains. "I've taken girls on tour for a long time, and I want to continue to do that, because I feel like I can give them a platform."
For more information, visit Lambert's website.
Miranda Lambert 2015 Roadside Bars and Pink Guitars Tour Stops:
Missoula, Mon.
Billings, Mon.
Rapid City, S.D.
Mankato, Minn.
Augusta, Ga.
Fayetteville, N.C.
Roanoke, Va.
Huntsville, Ala.
Tupelo, Miss.
Jonesboro, Ark.
Lacrosse, Wisc.
Ft. Wayne, Ind.
Moline, Ill.
See Miranda Lambert's Best Hairstyles Through the Years
More From Taste of Country