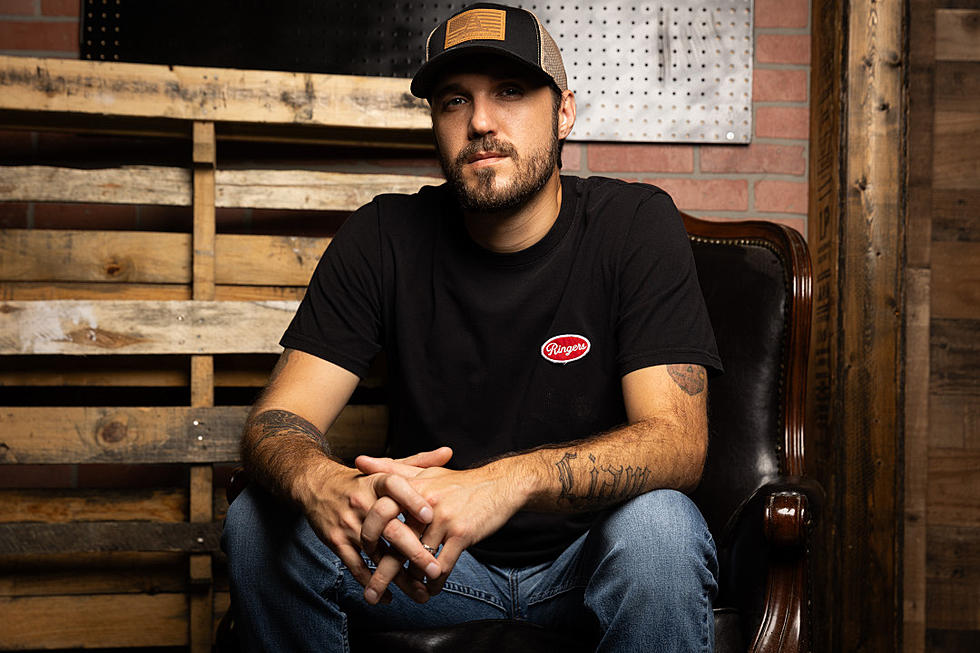 Steven Champion Puts His 'Tainted Lyric' Moniker Behind Him in New Music Video [Exclusive Premiere]
Julian Mendoza
Steven Champion was once known only by his TikTok moniker, "Tainted Lyric."
"I actually started off on social media making people laugh," says the 35-year-old during an interview with Taste of Country. "I had nothing for a following. And then one day I went to work and made this goofy video about these fleece-lined leggings I was wearing, and it ended up going crazy viral," he says with a laugh.
"It was terrifying. I was like, 'Okay, what the hell am I supposed to do now?'"
For a while, it meant that Champion spent time continuing to make his followers laugh before ever admitting that music was his first love.
"I learned how to play guitar when I was around 13 years old to try to get my real dad's attention, because he played guitar," remembers the Alabama native who attended school with none other than Riley Green. "I actually taught myself how to play guitar, trying to find something to try and connect with him on, and it still never worked, but I at least learned how to play guitar."
Songwriting came a bit later, with Champion saying that he wrote his first song that actually made him feel like a songwriter when he was 28 years old.
"My son had passed away," says Champion quietly. "I ended up writing a song for him called 'Liam's Song,' and that was the first song that pretty much I could be proud of for writing. And I didn't even go on to record that song until probably four years after that."
Today, however, Champion continues to grow both personally and professionally, making the recent decision to come out from under his "Tainted Lyric" moniker and laying his heart on the line on songs including his latest single, "Tired of Losing."
"It's literally just an anthem about how it's so easy to point the finger at somebody else and be like, 'You're the reason why I haven't done this,' or 'You're the reason why I'm sad,' or 'You're the reason why I'm depressed,' when it's just as easy to look in the mirror and say, 'No, this is your fault,'" says Champion about the honesty-driven song he wrote alongside labelmate and good friend Bryan Martin.
Premiering on Taste of Country, the music video for "Tired of Losing" ended up being filmed under some unfortunate circumstances.
"The day that we were supposed to shoot the music video, I had ungodly vertigo, which is what I've been dealing with for about two months," admits Champion. "Literally, I woke up that morning wondering if I could just get a buddy of mine to be in this video. And then I immediately stopped myself. You're going to go and put out a music video about getting up and powering through things, and then you're going to seriously sit here and contemplate getting somebody else to play your part in a music video about a song that you basically wrote about your damn self?"
The answer was no.
"The facial expressions in the music video turned out perfect because I didn't have to fake anything because I literally felt horrible."
What he doesn't feel bad about is deciding to finally live his professional life as Steven Champion.
"I've never necessarily had an interest in the world knowing my name," he says. "I just wanted somebody to listen to the songs that I wrote and be able to feel what I felt in that moment. But the fact is that I started wondering, 'How long are you going to hide yourself from the world?'"
He pauses before adding, "It's terrifying, because it was easy to make people fall in love with Tainted Lyric. I just hope they love Steven Champion just as much."
The Top Country Songs of 2023, Ranked
The best country songs of 2023 fit snug over your life and experiences. Each is written from personal experiences, but somehow, that translates as if it were custom to each of us. We've loved, we've longed, we've lost and we've cut loose in the country.
Airplay charts, sales data and streaming numbers helped make this list of country music's top songs of 2023, but staff and Taste of Country reader opinion were most influential. Songs included on previous Top Country Songs lists were not eligible. A song may have been released in 2022, but it had to have the majority of recorded airplay or impact this year to count.
More From Taste of Country