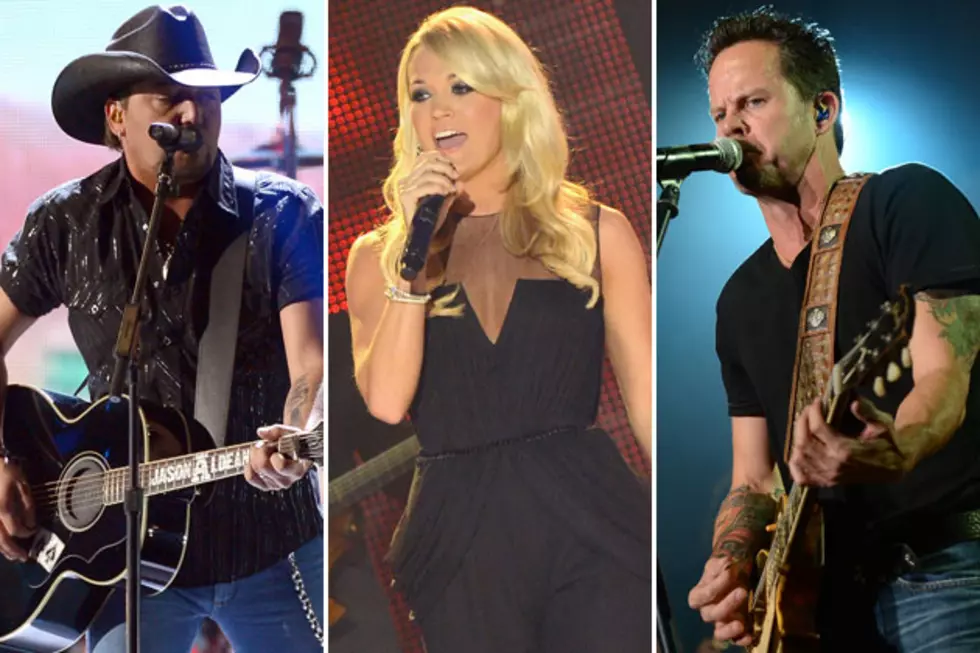 Top 40 Country Songs – January 2013
Mark Davis / Rick Diamond (2), Getty Images
One could do worse then choosing to spend holiday cash or gift cards on songs included in this Top 40 Country Songs of January 2013 list. Superstars like George Strait, Kenny Chesney and Carrie Underwood are included, as are newcomers like Thomas Rhett, Kasey Musgraves and Hunter Hayes. The No. 1 song belongs to an artist who took nearly three years between albums, and has recently returned with a stirring song of inspiration. 
Country groups like the Band Perry and Little Big Town make major leaps in the January 2013 Top 40 country songs. Also look for Miranda Lambert's new single, plus the lead single from Brad Paisley's upcoming album.
The list of the Top 40 Country Songs for January 2013 is compiled from Billboard chart data and sales figures, in addition to staff opinion and reader feedback.
Top 40 Country Songs for January 2013:
40. Train (Feat. Ashley Monroe), 'Bruises'
39. Love and Theft, 'Runnin' Out of Air'
38. Brantley Gilbert, More Than Miles'
37. Jerrod Niemann, 'Only God Could Love You More'
36. Florida Georgia Line, 'Get Your Shine On'
35. The Henningsens, 'American Beautiful'
34. Dustin Lynch, 'She Cranks My Tractor'
33. Kelly Clarkson (Feat. Vince Gill), 'Don't Rush'
32. Miranda Lambert, 'Mama's Broken Heart'
31. Toby Keith, 'Hope on the Rocks'
30. Gloriana, 'Can't Shake You'
29. Eli Young Band, 'Say Goodnight'
28. Faith Hill, 'American Heart'
27. Hayden Panettiere, 'Telescope'
26. Chris Young, 'I Can Take It From There'
25. Chris Cagle, 'Let There Be Cowgirls'
24. Thompson Square, 'If I Didn't Have You'
23. Casey James, 'Crying on a Suitcase'
22. Greg Bates, 'Did It for a Girl'
21. Dierks Bentley, 'Tip It on Back'
20. Thomas Rhett, 'Beer With Jesus'
19. Carrie Underwood, ''Two Black Cadillacs'
18. Lee Brice, 'I Drive Your Truck'
17. Kacey Musgraves, 'Merry Go Round'
16. Eric Church, 'Creepin''
15. George Strait, 'Give It All We Got Tonight'
14. Tim McGraw, 'One of Those Nights'
13. Kenny Chesney, 'El Cerrito Place'
12. Kip Moore, 'Beer Money'
11. Florida Georgia Line, 'Cruise'
10. Brad Paisley, 'Southern Comfort Zone'
9. Randy Houser, 'How Country Feels'
8. Hunter Hayes, 'Somebody's Heartbreak'
7. Taylor Swift, 'Begin Again'
6. Justin Moore, ''Til My Last Day'
5. Little Big Town, 'Tornado'
4. Zac Brown Band, 'Goodbye In Her Eyes'
3. The Band Perry, 'Better Dig Two'
2. Jason Aldean (Feat. Luke Bryan, Eric Church), 'The Only Way I Know'
1. Gary Allan, 'Every Storm (Runs Out of Rain)'
Did Your Favorite Song Make Our Top Country Songs List for January 2013?
What would you add to our list of the Top 40 Country songs for January 2013? Share your opinions on the list — as well as the songs that deserve to be included — in the comments section below.
More From Taste of Country