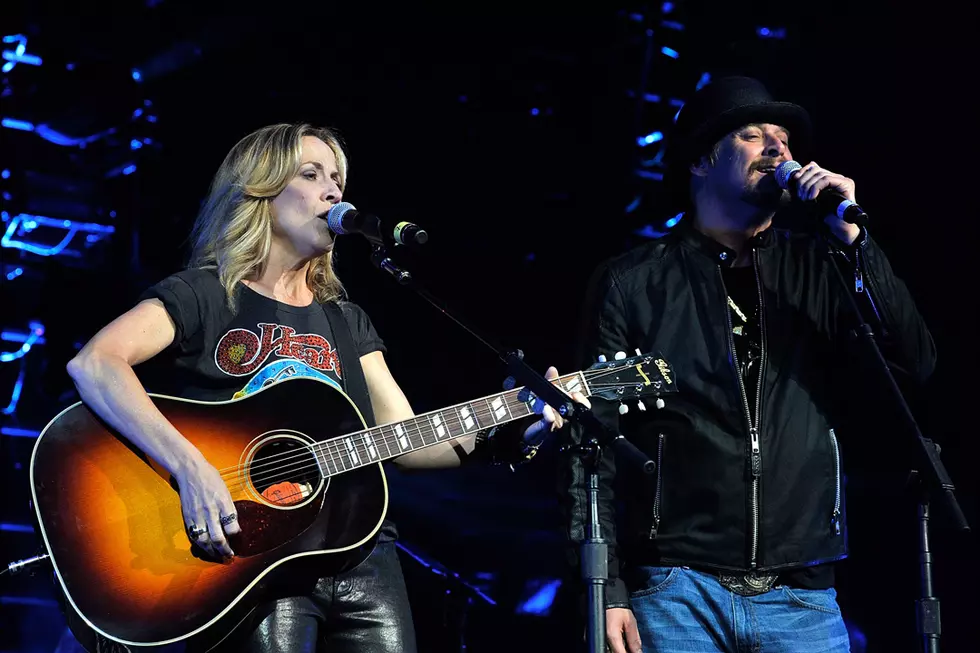 Sheryl Crow Admonishes Kid Rock Over Crude Taylor Swift Attack
Frederick Breedon IV, Getty Images
"Spread love. Not hate. End of subject," Crow wrote on Twitter in response to her friend, with whom she collaborated on "Picture" in 2002. There were even rumors of a romance between Crow and Kid Rock at the time, though they've denied that they ever dated.
Kid Rock posted to Twitter earlier in the day on Friday, attacking Swift out of the blue for her political beliefs and implying that she would trade sexual favors for a chance to appear in Hollywood films.
"Taylor Swift wants to be a democrat because she wants to be in movies ... period," the rapper and sometimes country singer opined. "And it looks like she will suck the door knob off Hollyweird to get there. Oldest move in the book. Good luck girl."
See Country Music's Nastiest Feuds
Kid Rock's reason for attacking Swift is unclear, but his tweet did land on the same day as a new interview she gave to Vogue in which she talks about her reasons for not speaking out against Donald Trump during his 2016 presidential campaign. She explains that she felt her support might actually damage Hillary Clinton's campaign.
Swift has since expressed her belief in progressive agendas in public for the first time, helping to get out the vote in the 2018 midterm elections and publicly supporting a slate of Democratic efforts, including LGBTQ rights. She's also voiced her opposition to Republican candidates and ballot initiatives that she felt were anti-LGBTQ.
It isn't unusual for the rapper to voice his political views in crass terms that belittle opposing views. After Trump won the presidency in 2016, Kid Rock offered a line of apparel online that included a T-shirt of the electoral map, depicting the states Trump won as the United States of America and the states that Hillary Clinton won as "Dumbf--kistan."
Sheryl Crow has expressed her disapproval of Donald Trump's presidency in public, even calling for his impeachment in May of 2017 in an interview with Good Morning Britain.
"What we need is a functioning government," Crow stated, calling Trump's administration "nothing but chaos."
Kid Rock's Childhood Home Is Far From Humble: 
More From Taste of Country